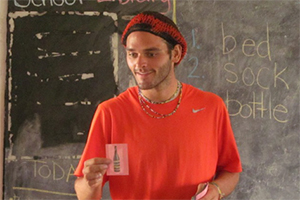 Michael Lee's Peace Corps assignment in Sierra Leone was supposed to end with a celebratory trip through the country, after which he planned to work full time at a school in the capital.
Instead, it ended with his evacuation.
The 2012 TCNJ grad had been teaching in western Sierra Leone for nearly two years when he first heard reports of Ebola last spring. The cases were restricted to the country's eastern province at first, and the Peace Corps simply urged volunteers to avoid the area, Lee says. But it continued to spread, and soon he was hearing about hundreds of cases.
He thinks the tipping point came when Dr. Sheik Humarr Khan, the man leading the fight against Ebola in Sierra Leone, died from the disease. "I think the Peace Corps and State Department saw that and decided it was time to pull us out," says Lee. "They realized it was going to get a lot worse before it got better."
Lee was in a neighboring village when he received the call notifying him of the evacuation. He was told to wait there for a car that would bring him to Freetown, the capital city. On the way there, the driver stopped in Bomotoke, the village Lee had called home. "I had 20 minutes to pack up my life and say my goodbyes," he recalls.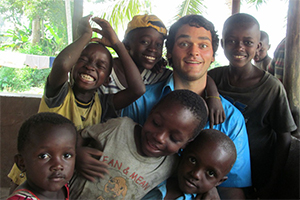 The hardest part was bidding farewell to Mustapha Kamara, the 12-year-old boy he had been mentoring and with whom he had developed a close friendship. "He was like a son to me," says Lee, explaining that he'd promised the boy he'd find a spot for him in the Freetown school where Lee thought he'd be serving as principal. Instead, he said a rushed goodbye, unsure if he'd ever see him again. "It was awful," Lee says.
Since arriving in the U.S. on August 8, Lee has tried to monitor the situation in Bomotoke. It's not easy, given there is no phone or Internet connection to the village. Through Facebook, he found an NGO volunteer living in Freetown who had visited the village recently. The area was still Ebola free, she told him. It was welcome news, but Lee still can't help but worry about his former village, and especially his friend, Mustapha.
He still plans to return to the West African nation he once called home; he's just not sure how or when he'll be able to do so. "I have friends who are still living in Sierra Leone who say the situation there is getting worse," says Lee. "One of them told me, 'Think of all those end-of-the-world type movies. Sierra Leone is living that.'"
---
—Tony Marchetti '96, '02, editor, TCNJ Magazine
Watch for a full-length article about Lee's experience in the Winter 2015 issue.