The roar of the Lion has been loud and clear throughout the New Jersey Athletic Conference this fall.
Last weekend, the men's and women's cross country teams at TCNJ swept the NJAC championship titles in convincing fashion. The men won its 21st consecutive conference championship, a streak that began in 1994. The women's team dominated the field to defend its title under cold and rainy conditions. Both teams will compete in the NCAA Atlantic Region next Saturday, November 15 in Rochester, NY.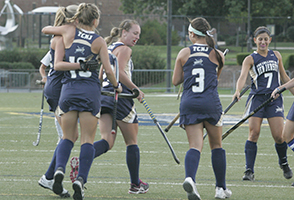 Tomorrow (Saturday), two more Lion packs will compete for conference supremacy. At 1 p.m., TCNJ's field hockey team will host Rowan University in Lions Stadium. The Lions boast an 18-1 overall record and are ranked fourth nationally. They defeated the Profs (14-4) by a score of 2-0 a week ago and look to roll to their 10th straight victory.
Tomorrow evening, the women's soccer team visits Montclair State University for a 6 p.m. kickoff. The championship final is a rematch from last season, which saw TCNJ clinch the title on penalty kicks following 110 minutes of scoreless play. A win tomorrow would give the Lions their 17th NJAC championship and secure their 24th consecutive appearance in the NCAA championship tournament.
So follow TCNJ athletics through the post-season this fall. Their tracks may lead us to another national championship.
---
—Mark Gola