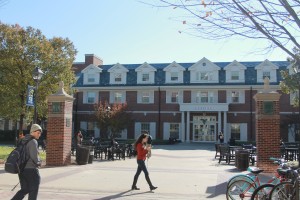 In World War II, 603 students and alumni from the college left Ewing for Europe and beyond to serve in the military. At one point, the male population on campus was so small that Bliss Hall (then the men's dormitory) was turned over to women.
Thirteen of the 603 never returned, having made the ultimate sacrifice for their country.
A vintage memorial to these students and alumni, and one who perished in WWI, now stands in Alumni Grove, just outside the entrance to the library. Two stately brick pillars were constructed here in early October to replicate those that stood at the college's former main entrance, just south of the current main entrance at Rt. 31 across from Carlton Ave., adjacent to the Campus Town site.
"One option would have been to design them into the site plan for Campus Town," said Dave Muha, associate vice president for Communications, Marketing, and Brand Management. "But they have a strong alumni backstory—they were donated by alumni in recognition of alumni who had served in the world wars."
The original pillars—save the limestone caps—wouldn't have survived the move, so the brick and mortar were reproduced in the Alumni Grove.
The original pillars were adorned with three plaques, a gift to the college from Ethel Hanna Dorlon '31: one in memory of her brother, Kermit A. Hanna, an Army sergeant killed in action during World War II; one in memory of 14 classmates and alumni who gave their lives during the World Wars, and one to name the gates as the Memorial Entrance. These plaques are now mounted in the Alumni Grove.
"Reconstituting the pillars is the same as reconstituting the dedication for our veterans," says Leonard Tharney '54, professor emeritus, and retired Army colonel. "The people gave the same sacrifice, and the college's continued remembrance of that is what is truly being replicated."
---
—Emily W. Dodd '03