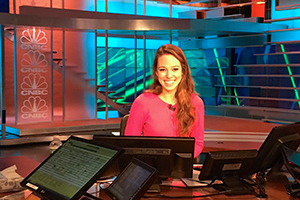 Pageant experience gave her the poise. Now, Olivia Michael's internship at CNBC's assignment desk at NBC Universal is giving her the chops to pursue one of her dreams.
"People ask me, 'Who did you know? Who referred you there?' But I didn't know anybody," she says of her rise to the top of a four-round, two-week interview process.
Michael, a junior marketing major minoring in journalism, has known that she wanted to be a news anchor on a major network since middle school when she started watching CNN and ABC with her dad.
Today she thrives on not knowing what the day at CNBC will bring. It could mean filming with talent on location at the New York Stock Exchange, standing in for news anchors during rehearsals, or outfitting herself with her own camera and microphone and hitting the city for an MOS—man-on-the-street interview. She did one recently, soliciting feedback on the Apple watch.
"It's nerve wracking, but I love it. You face a lot of rejection when you're asking people for their thoughts," says the Tenafly, New Jersey native. "But I want to prove I have the chops."
She's learning from some of the best, rubbing elbows with talent like Jim Cramer, host of CNBC's Mad Money ("He's not as big and scary in real life as he seems on TV," Michael says), and Sue Herera, co-anchor of Power Lunch. She recently worked her first live red-carpet event at CNBC's 25th Anniversary Gala at Lincoln Center, crossing paths with not only anchors and reporters, but Martha Stewart, Regis Philbin, and cast members from Shark Tank.
Far from the limelight she's pursuing now, Michael recalls being a very shy child. "My mom always encouraged me to step outside the box and give pageantry a try—which I fought tooth and nail!" In June, she'll compete for the title of Miss New Jersey, with hopes of making it all the way to the Miss America stage.
But first, she'll tackle Atlantic City from another angle: writing a piece about the city's failing economy that she hopes will snag her a byline on CNBC's website.
---
—Emily W. Dodd