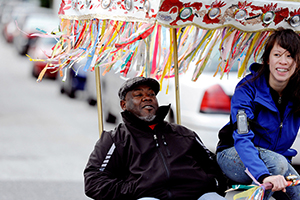 On Sunday, November 23, artist and educator Michelle Nugent '09 will bring her Pedicab Project to the front steps of the Baltimore Museum of Art to celebrate the grand reopening of the Dorothy McIlvain Scott American Wing.
Nugent, an adjunct professor in TCNJ's Department of Art and Art History, created the pedicab while working toward her MFA in community arts at the Maryland Institute College of Art, and then pedaled it around the streets of Baltimore, offering free rides in exchange for the opportunity to record and preserve city residents' oral history.
"Baltimore is so diverse, but there's a lot of segregation," says Nugent. "The pedicab was a vehicle for me to engage in conversation with people I normally wouldn't talk with: to find out who they actually were, instead of stereotyping them and feeling like I was stereotyped by them."
Follow The Pedicab Project on Tumblr and read even more about Nugent's inspiration in The Signal.