In ceremonious fashion, Lieutenant Colonel McKinley Williams bestowed honors upon TCNJ's Ralph Pignatelli and Karen Samuels, while Airman First Class Jeddel Yeras looked on, beaming with pride and thanks.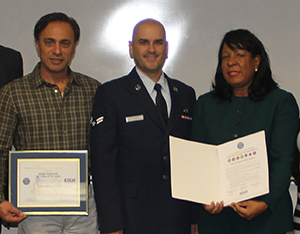 Yeras, a system administrator in network and technical services, was recently called to active duty for several months, leaving his post at TCNJ for one in United States Air Force. During his absence, his supervisor Pignatelli pulled the department together to "do more with less," and Samuels worked with Yeras' family—his wife was incidentally expecting their child—to ensure that their medical benefits went uninterrupted.
It was for their unwavering support that Yeras nominated the pair for the Patriot Award, an honor granted by a Department of Defense office tasked with promoting cooperation and understanding between reserve service members and their civilian employers.
"All of this may seem like 'business as usual' for the college, but I wanted to do everything I could to shine a spotlight on what a great place TCNJ is to work for, and how supportive we are of our military," Yeras said.
The Patriot Award gives recognizes TCNJ for facilitating a military-friendly working environment and honors the college's efforts to support citizen warriors in a variety of ways, including flexible schedules, time off prior to and after deployment, caring for families, and granting leaves of absence if needed.
"Supportive employers are critical to maintaining the strength and readiness of our nation's guard and reserve units," said Yeras.
And for that, we are all thankful.