The College is pleased to announce that Dr. Janet Morrison, professor of biology, has been recommended as the inaugural recipient of the Barbara Meyers Pelson '59 Chair in Faculty-Student Engagement.
"I feel very honored to be named the first Barbara Meyers Pelson '59 Chair in Faculty-Student Engagement," said Morrison. "For me, teaching and research with students have always been inseparable, whether in my classrooms or in my research group; it's where I find my professional joy."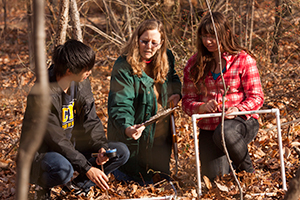 Morrison is a nationally recognized authority on mentored undergraduate research, and her proposal will lead to growing and strengthening TCNJ's efforts in faculty-student engagement across the campus, in all schools. She has served as a national councilor to the Council of Undergraduate Research (CUR), an organizer of the national CUR conference at TCNJ in 2012, and has successfully received funding for research projects that involve students.
Upon learning of Morrison's recommendation, Mrs. Pelson expressed her excitement. "I am beyond thrilled," she said. "The college has an extraordinary faculty and outstanding students, and I am so pleased to support this kind of work that allows students to become partners in their own education."
"I offer my enthusiastic congratulations to Dr. Morrison, and thank the Faculty-Student Collaboration Program Council for their work," said Gitenstein. "Selecting candidates from such a talented pool of applicants was no easy task."
This is TCNJ's first-ever endowed chair, made possible by a generous $1 million gift from alumna Barbara Meyers Pelson '59. Mrs. Pelson's gift will help ensure that future students and faculty have the opportunity to enjoy the benefits of collaborative, sophisticated research opportunities.
The Board of Trustees will take formal action on this recommendation at its February meeting, and Morrison will serve a three-year term beginning fall 2015.