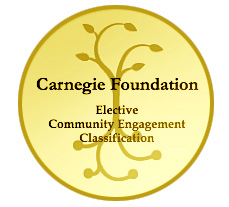 Community engaged learning is a hallmark of a TCNJ education, and the college has worked to infuse the curriculum with activities where students learn by serving and engaging with diverse communities on and off campus. These experiences allow TCNJ students to excel academically and to be engaged citizens both locally and globally.
For these efforts, TCNJ has received Community Engagement Classification from the Carnegie Foundation for the Advancement of Teaching—a distinction shared by only about eight percent of colleges and universities nationwide.
"We are extraordinarily pleased to be recognized by The Carnegie Foundation as an exemplar in community engaged learning," said President R. Barbara Gitenstein. "This kind of learning is a signature experience at TCNJ, and it enriches research, scholarship, and creative activity across our entire campus."
To be considered, institutions had to provide descriptions and examples of institutionalized practices of community engagement that showed alignment among missions, culture, leadership, resources, and practices. TCNJ demonstrated how CEL opportunities are integrated campuswide through its Bonner Scholars program, First-Year CEL experience and graduation requirement, efforts to create Advanced CEL opportunities in all majors, and the creation of TCNJ TrentonWorks, a physical presence in the capital city that focuses on community engagement and being accessible to those we serve.
"On a daily basis, our talented professors and students are teaching and learning while they respond to the stated needs and interests of our dedicated and exceptional community partners," said Patrick Donohue, assistant provost for Community Engaged Learning and Executive Director of the Bonner Institute. "Together, all are demonstrating that we can collaborate in meaningful and mutually beneficial ways."
Dr. Gitenstein echoed these sentiments. "It is hard to drive around Trenton and the surrounding area and not see evidence of the college putting its values into action.  This evidence can be seen in urban schools, youth development programs, immigration service and environmental education centers, soup kitchens, homeless shelters, health care facilities, community development agencies, and correctional institutions. As a public institution, and now a Carnegie institution, this kind of commitment is at the heart of what we do and who we are."
Since its inception in 2006, 361 U.S. colleges and universities have received this classification. TCNJ is one of 83 institutions receiving it for the first time in 2015. Only 34 percent of this year's first-time recipients are among our Carnegie Classification peer institutions (master's colleges and universities).
A complete listing of institutions that hold the Community Engagement Classification can be found on NERCHE's website.
---
—Emily W. Dodd '03