"It is one of my proudest days at the college," says Brenda Leake.
Leake, an associate professor of elementary/early childhood education, and more than 150 of her faculty and staff colleagues celebrated Martin Luther King Jr.'s birthday—and supported the college's strategic initiative around diversity and inclusion—with a group trip to view the film Selma on January 19.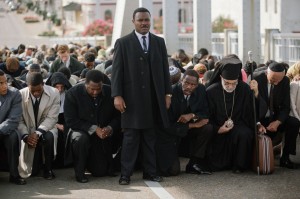 The film chronicles the tumultuous three months in 1965 when Dr. Martin Luther King Jr. led a campaign to secure equal voting rights in the face of violent opposition. The epic march from Selma, Alabama, to the state's capital in Montgomery culminated in the signing of the Voting Rights Act of 1965, a moment prompting change that forever altered American history.
How did the TCNJ crowd react to the powerful film?
"I loved it," says Derrick Tootle, senior building maintenance worker. "It was very interesting. I didn't know the whole story, but I understand it a lot better. I want to see it again."
Tom Mahoney, general counsel, notes: "It's amazing that this happened in my lifetime. It's not ancient history."
Leake compares the physical violence toward blacks in the film to today's headlines. "Sometimes it's hard to walk out feeling hopeful, with Ferguson and Eric Gardner still happening," says Leake. "We're still losing people in the streets. We're such a great nation, but we can't seem to get it right."
However, she also expressed optimistic feelings and gratitude for the event.
"It gave us an opportunity to come together as a group to reflect, and to talk about where we've come from. We think that we're done, but we're not done."
The conversation about the film isn't over, either. When asked if he thought Selma would continue to spark dialogue back on campus, Tootle said: "Absolutely. I really enjoyed the whole experience, seeing the movie among my peers."
This event was sponsored by the Office of Human Resources.