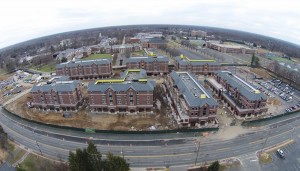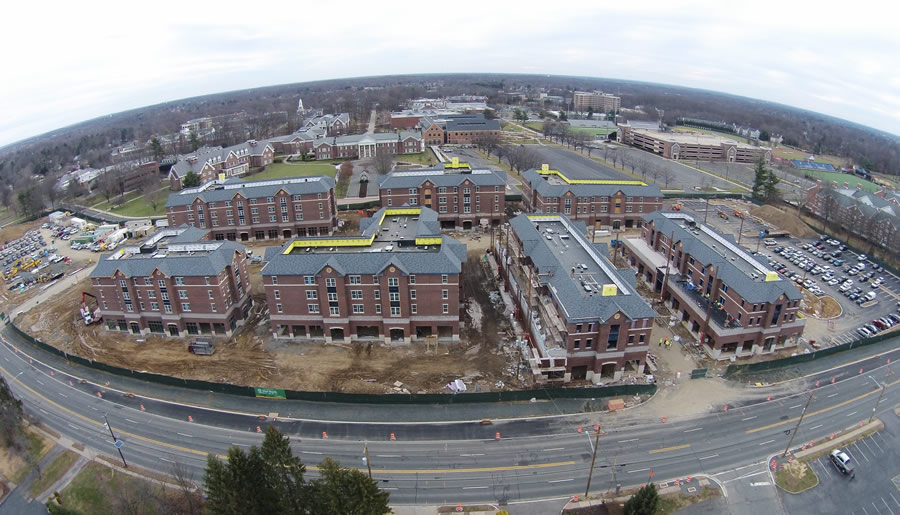 While The College of New Jersey's Campus Town won't officially open its doors until August, strong student demand for housing has led TCNJ and the PRC Group to announce plans to expand the development, adding two residential buildings which will accommodate 166 additional students. This second phase of the project will also include a transformation of the college's main entrance to campus, which is adjacent to the Campus Town site.
"All 446 available beds were leased in just three months," said Greg Lentine, Campus Town's director of campus development. "This is a remarkably short period of time, which reflects the demand for student housing at the college, combined with a very attractive project design."
The College of New Jersey has an undergraduate enrollment of about 6,700 and only 4,000 available beds on campus.
"Our public-private partnership with the PRC Group allows us to address a critical need for additional student housing without utilizing state or college funding," said TCNJ President R. Barbara Gitenstein. "The retail shops and restaurants that will open this summer with phase one will benefit not only members of our campus community, but also the town and residents, making this project a real win-win for both the TCNJ and Ewing communities."
Phase two, which is scheduled to open in summer 2016, will add an additional 74,000 sq. ft. of residential space to the existing 278,000 sq. ft. of mixed-use space. The additional cost is an estimated $15 million per building, bringing Campus Town's total cost to approximately $120 million, all of which is being funded privately by the PRC Group.
The second phase of development also includes a redesign of the main entrance to TCNJ's campus. This work will enhance and unify the college's appearance along Pennington Road (Route 31) with new landscaping, gateways, banner poles, fencing and signage.
"The transformation of our Pennington Road entrance will provide an enhanced gateway which will match the quality and character of the rest of our campus," added Gitenstein.
The fully furnished student apartments offer every student a private bedroom with a private or semi-private bathroom. Every apartment comes with a full kitchen, living room and laundry room, and features secure access to the elevator lobby, elevator, the apartment, and their own individual room.
In addition to the residential housing for students, the first phase of development includes local restaurants and services that have taken advantage of the location. Piccolo Trattoria, Yummy Sushi, El Mexican Mariachi, Redberry Yogurt, and Spencer Savings Bank are in their construction planning process, and other businesses are completing the leasing process now. The project will also support a new state of the art fitness center for the college. Campus Town is anchored by Panera Bread and Barnes and Noble.