The power of "living in the moment" is often overlooked—and that's why the month-long Breathe In–Breathe Out Mindfulness Challenge is now underway at TCNJ.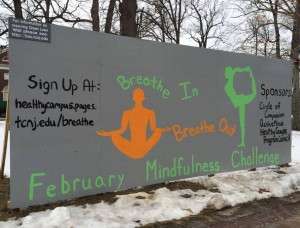 This month, students, faculty, and staff are invited to challenge themselves and their peers to make a conscious effort to be mindful.
"Our goal is to inspire as many people as possible to engage in activities with proven mental and physical health benefits—during a time of year that is stressful for so many people," say Assistant Vice President and Dean of Students Angela Lauer Chong, and Carol Kuser Loser Dean of the School of Nursing Carole Kenner, chairs of the Healthy Campus Program Council.
To foster friendly competition, departments and student organizations are encouraged to sponsor a team challenge. For example, the Circle of Compassion Team that includes students, faculty, and staff, has encouraged members to commit to completing 50, 75, or 100 minutes of mindful activities during the challenge. Members who achieve their goal can enter to win prizes from their team such as Breathe In–Breath Out TCNJ bracelets, t-shirts, and books.
For more details on the Breathe In–Breath Out TCNJ Mindfulness Challenge, including a schedule of meditation and yoga classes, visit the Healthy Campus Program Council website.
---
—Jenna Nerger '15