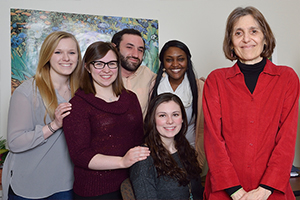 With all due respect to Otis Redding, the next time you and your "bae" hit a rough spot in your relationship, you should try a little empathy, not tenderness.
Why? Because people who respect their partner's point of view in relationship conflicts enjoy healthier, better functioning relationships, according to a recent study based on work done in TCNJ's Romantic Relationships Research Lab.
Directed by Candice Feiring, the lab is staffed by undergraduate psychology majors who study the love lives of their TCNJ peers. The overall goal of the lab's work is to understand what's healthy and what isn't in the romantic relationships of college-aged students, says Feiring, a senior research associate and faculty member in the psychology department.
Currently, students in the lab are researching the positive and negative ways late adolescents handle conflict within a romantic relationship. "This can reveal whether a relationship will continue or not," says Feiring.
To collect their data, lab members interview TCNJ students about specific relationship events, eliciting details about the participants' thoughts, feelings, and approaches to those events. The researchers then transcribe, code, and analyze the narratives looking for specific markers that indicate a participant's perceptions of the events.
So what markers indicate whether or not a relationship is headed for splitsville? We agreed not to say since the lab's work is ongoing (see sidebar), and our reportage could jeopardize its findings.
Still, we wondered if student researchers find it awkward to ask peers to share personal details of their romantic relationships. It's not, they say. What's more, they add, feedback forms overwhelmingly show that the participants find the process beneficial.
"We don't counsel and we never offer advice," says Chrissy Petit, a senior who has worked in the lab for five semesters. "But we've found that by being there and reflectively listening to participants, the experience is comforting and therapeutic for them. And that makes it very rewarding for me."
Love & Money
The Romantic Relationships Research Lab is looking for TCNJ couples to take part in its ongoing study. To participate, both partners must be current TCNJ undergrads and the relationship must have been ongoing for at least three months. Participants are paid $8 an hour for their time. Contact the lab at rrrlab@tcnj.edu for more information.
---
—Tony Marchetti