Curly kale salads punctuated with shaved radish and roasted squash greeted members of the inaugural Environmental Sustainability in Education course and their professor, Lauren Madden, yesterday at Agricola, a restaurant on Princeton's Witherspoon Street.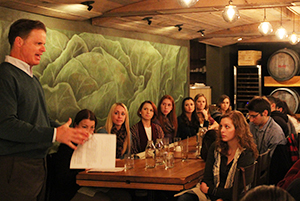 The course, a requirement for TCNJ's brand new minor in sustainability education, is largely made up of elementary education majors, but in a surprising turn, a third come from outside the School of Education, including psychology, finance and history majors. The semester will also cover land and water use, and include a half-day of service at a Lawrenceville elementary school.
During the salad and main course—a turkey sandwich with house-cured bacon for the meat eaters and a mushroom pot pie for the vegetarians—the 26 students listened to Agricola's owner, Jim Nawn, riff on all that goes into running a farm-to-table restaurant in an age of highly processed, industrial food.
"In season, all of our produce comes from within 20 miles of here," said Nawn, whose own farm, four miles from Agricola, supplies a small percentage of what the restaurant needs. "Organic is our first choice, then local." In cold weather, he relies on vendors with greenhouses, preserved foods or more distant suppliers.
"Food trimmings go back to [animals on] the farm," he said, referring to his own, while food waste goes to a composting service. One student asked what he does with used cooking oil. "It gets picked up by a service. I would like to do what it takes to turn it into fuel for cars, but I can't."
The water on the menu—Vivreau sparkling and still water—sounds like it may have been flown in from France, but no. "Our water is tap water from Princeton that's filtered. Call that sustainable. It works," said Nawn.
Given all that Nawn has put into running an organic, sustainable, and locally sourced restaurant since 2013—plus the fact that he's turning enough profit to investigate opening a second establishment—it would be easy to assume that he was green to the core.
"I didn't start out as farm-to-table," said Nawn, a former owner of a group of Panera franchises. "I just thought Princeton needed a great restaurant." Once underway, the group started talking about growing vegetables organically as "a way to achieve better taste," he said.
For one member of the class, the takeaway was unexpected. "He didn't start with sustainability in mind," said Kelsey Snedeker, a senior double majoring in elementary education and iSTEM, with a minor in sustainability education. "A lot of projects are born from the idea of sustainability," but that's not the only approach out there, she said. "Any bit of effort you can apply, whether it's personal or business, matters."
But even Snedeker has her limits. When asked if she might apply to work on Nawn's farm, an offer he floated to the group during lunch, her reply was fast.
"Not me," she said, laughing. "I'll take my class for a visit, but no, not me."
---
—Renée Olson