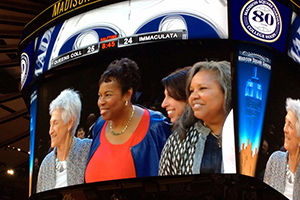 Feb. 22 marks 40 years since the first women's college basketball game was played at Madison Square Garden between Queens College and Immaculata. TCNJ's assistant vice president for student affairs and executive director of athletics and recreation, Sharon (Manning) Beverly, was a small forward for Queens in the historic game. Queens lost, 65 to 61, but won the 40th anniversary rematch this year on Jan. 4, where Beverly and others from the first game were celebrated.
TCNJ: Take us back to that first women's college game. Did you feel a sense of history at that moment?
Beverly: I don't think we realized the magnitude of what was happening. We were, of course, extremely excited about this opportunity and could understand that we were going to be the first women's team at the Garden, but I don't think we really understood exactly what that meant. To get there, to walk the same floor as Willis Reed and Walt Frazier and Bill DeBusschere and Bill Bradley and Earl the Pearl Monroe was an unbelievable experience. I remember walking out on the Garden floor and actually kissing the floor I was so excited to be there.
TCNJ: Was there an added importance to the match, or was it just another game?
Beverly: We wanted to win that game in the worst way, and we were extremely disappointed to lose by four points. The year before, the national championship was held at Queens College, and Queens College beat Immaculata by one point. So it was really the rematch of the national championship, and of course we wanted to win.
TCNJ: What sticks out in your mind about that game?
Beverly: Actually being one of the five who started. To actually be on that floor when they tossed that ball, that was quite an experience. And it's interesting because folks say, 'Were you nervous?' I wasn't nervous, but just took a second to take that in. After that, we could've been playing at Queens because you're in the game and you forget that you're in the Garden, quite frankly. You're just playing.
TCNJ: What was it like for you to return to the Garden for the 40th anniversary rematch?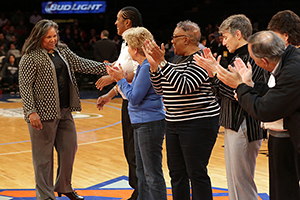 Beverly: It really brought home to me the importance of that first game. They had a wonderful crowd—folks that I played against, played with, coached. I saw people that I hadn't seen in years, and they were all thanking us for what we did and how great of a game it was because it set the tone for the quality of athletics for women's basketball and women's sports in general. You just didn't know that you had that effect.
TCNJ: Queens won this time. That had to be a little redemption, right?
Beverly: Yes. It wasn't the same for us, but it was nice to see them play well.
TCNJ: Has it felt like 40 years?
Beverly: Stop saying it's 40 years! When the athletics director at Queens called to say, 'You know this is the anniversary of the first game and we're going to try to get the game at the Garden and we want to do a ceremony and reception.' I said, 'Oh, that's nice.' And then she said it was the 40th anniversary. I said, 'Excuse me? I thought you were going to say 20.' And then I started to think, Yeah, it's been 40 years.
—Interview by Dustin Racioppi