Rosa Zagari-Marinzoli, assistant dean for the School of Humanities and Social Sciences, was driving to work one morning, listening to the radio, when the Oscar announcements began.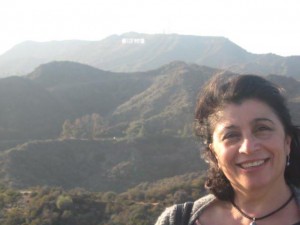 A movie fan, she pulled into the TCNJ lot and waited to hear the 2015 Best Picture contenders. Soon came a familiar title: Whiplash. Remembering the inquiry she received from a colleague's son the previous year, Zagari-Marinzoli dashed to her office and Googled her name along with Whiplash. There she was—a TCNJ leader with her own IMDB page.
Zagari-Marinzoli says she never expected to appear at the end of a movie, much less a movie nominated this year for five Oscars. But if you watch Whiplash, you'll find her name in theclosing credits, listed under "Special Thanks."
In the summer of 2013, writer/director Damien Chazelle was turning his award-winning short, Whiplash, into a feature-length film of the same name. He needed a template for an academic dismissal letter that would flash on screen and asked his mom, TCNJ history professor Celia Chazelle, for advice.
Celia connected him with Zagari-Marinzoli, who showed Damien TCNJ's public academic dismissal policy. "He was interested in how students are notified, the policy, and what the notification looks like," says the assistant dean. She also sent him a general academic dismissal letter that had been stripped of all names and specifics. Damien says he used that model "pretty much word for word" in his film.
"It was sort of a lifesaver," he adds. "It was very important to me to use both my own experiences and those of people [in academia] to help make the movie as accurate as possible and help ground its world. I was so lucky that I could turn to someone like Rosa to do that for us."
Zagari-Marinzoli is modest about her contribution—"my role was very minimal," she says—and remembers feeling "shocked and surprised" when Celia told her that Damien had included her in the end credits.
Both Celia and Zagari-Marinzoli plan to watch the Oscars this Sunday—and, of course, they'll be rooting for the same Best Picture nominee.
What Mom—make that Professor Chazelle—will be doing during the Oscars 
TCNJ history professor Celia Chazelle is thrilled that Whiplash—a film written and directed by her son, Damien—is up for Best Picture at the Oscars this Sunday. His film career has been a long time in the making.
"Damien has told us since he was three years old that he wanted to be a filmmaker," says Celia, who will be watching the red carpet festivities with her husband and Damien's dad, Bernard, from their home in Princeton. "He was always making films in his head, drawing storyboards for films, and writing stories and screenplays."
While she says it is "most unlikely" that Whiplash will win big, what really matters is that the film was nominated at all.
"We never expected Oscar nominations before he turned 30," says Celia (Damien's 30th birthday fell three days after the announcement). "We think it's incredible; our heads are still spinning."
---
—Molly Petrilla