It has been said that New Orleans will forever exist as two cities: the one it was before August 29, 2005, and the one that came after—the one that survived the storm.
Now through March 7, TCNJ presents an interdisciplinary series of events around the 10th anniversary of the costliest and one of the deadliest natural disasters our nation has ever faced, showcasing how the arts can contribute to economic and social development.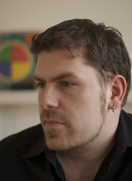 Two viewings of Spike Lee's 2006 documentary "When the Levees Broke: A Requiem in Four Acts" kick off the week that ends with two performances of "Katrina Ballads," a 65-minute dramatic song cycle composed by American singer and conductor Ted Hearne, set to the words of politicians, celebrities, survivors and relief workers taken directly from media footage gathered the week following the storm.
Punctuating the main events are a Brown Bag lecture with Hearne, a lecture on social justice and music education by TCNJ faculty members David Vickerman and Colleen Sears, and a day of creole and Cajun food culture in Eickhoff Dining Hall.
This series is presented by the School of the Arts and Communication and the School of Education.
And still, we rebuild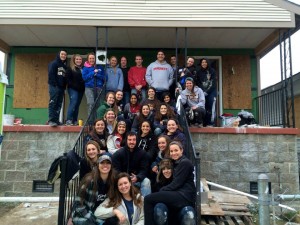 Since 2006, TCNJ students have traveled to New Orleans to rebuild homes for storm-ravaged residents.
"Hurricane Katrina hit Louisiana a few days before I started 5th grade," says Jennifer Pagliaro '17, a member of the college's Alternative Break Club (ABC). "I never imagined that 10 years later I would be a sophomore in college still taking trips to New Orleans to help bring families home."
Pagliaro was one of 90 ABCers and 30 Bonner scholars who traveled to NOLA during winter break, but it wasn't her first trip south. She recalls a home she worked on last summer, whose owner had faced contractor fraud, faulty construction, and mortgage companies forcing her to pay off a home she could not live in.
"It's easy for us to forget that the effects of a storm last much longer than after the final weather report is broadcasted," she says. "New Orleans has not forgotten Hurricane Katrina, so we can't either."
—Emily W. Dodd '03