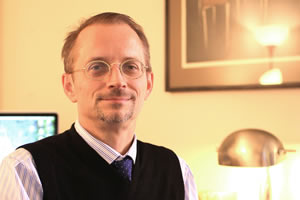 Provost and Vice President for Academic Affairs Jacqueline Taylor announced today the appointment of Professor of Philosophy John Sisko as the interim dean of the School of Humanities and Social Sciences, effective June 1, 2015. The current dean, Benjamin Rifkin, will be stepping down at the end of May to become provost and vice president for educational affairs at Ithaca College.
"I am grateful that Dr. Sisko has accepted this interim appointment," said Taylor. "Faculty colleagues who nominated him for this role spoke to the respect and trust he enjoys from the faculty and expressed confidence in his ability to provide steady leadership during a transitional period."
Sisko joined the faculty of The College of New Jersey as an assistant professor of philosophy, religion, and classical studies, after teaching at Temple University, the College of William and Mary, and California State University. Currently a full professor, he has served in a variety of leadership roles, including coordinator of the TCNJ Honors Program, coordinator of the Program in Classical Studies, and Dean's Faculty Fellow, a post that includes many of the administrative responsibilities that would fall to an associate dean at another institution. For three years he has served on the College Promotions Committee, most recently as chair.
Sisko embraces TCNJ's teacher-scholar model both in his own work and as a participant in the life of the college. His research focuses on Aristotle's psychological works, together with ancient Greek physics. He publishes in some of the most distinguished journals in his field, including Phronesis, Archiv fur Gechichte der Philosophie, Classical Quarterly, Oxford Studies in Ancient Philosophy, Mind, and Apeiron. His edited volume, Philosophy of Mind in Antiquity, will be published by Routledge in 2016.