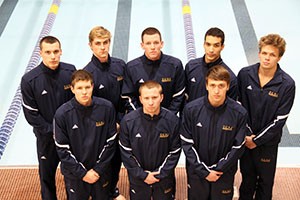 TCNJ men's swimming and diving enjoyed another incredible experience at the 2015 NCAA Division III Swimming and Diving National Championships in Shenandoah, Texas last week.
For the second straight year, the Lions captured two national titles in freestyle relay events. They placed seventh nationally at the meet, and first among public institutions.
On Friday night, Ryan Gajdzisz '17, Jason Ivins '17, senior Brett Pedersen '15 and sophomore Scott Vitabile '17 joined forces to top the nation's best in the 800-free relay. They posted a winning time of 6:33.23, which also broke the Lions' program record in the event.
In the final event of the four-day championship meet, TCNJ struck again late Saturday night. Taking the blocks in the 400-free relay, Pedersen and Vitabile were joined this time by senior Brian Perez '15 and junior Joseph Dunn '16. A thrilling race from start to finish, Pedersen touched the wall simultaneously with Matthew Veldman of the University of Chicago. The scoreboard read 2:57.85 in both lanes, making it a dead heat and tie for first place. The Lions had successfully defended their national title in the 4×400.
The four-day showing by TCNJ was a testament to its depth of talent. Along with the two national titles, the Lions earned 16 All-American honors and nine All-American Honorable Mention citations. They set three program records, and the seventh-place finish was the second-best in school history.
Congratulations to head coach Brian Bishop and all the members of his squad. It was a proud weekend for TCNJ.
---
—Mark Gola