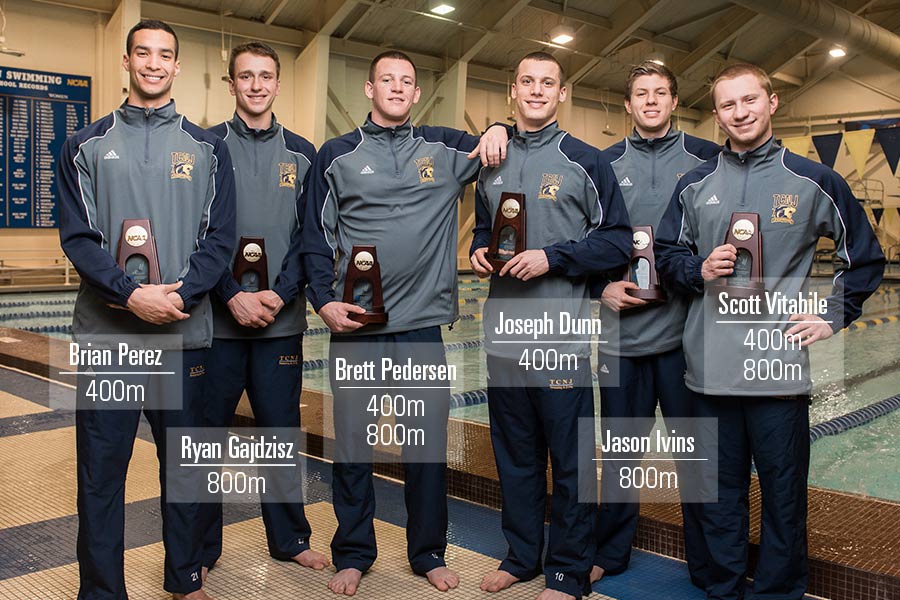 Swim coach Brian Bishop equated it to the "Miracle on Ice"—the historic Olympic ice hockey win in 1980 when a youthful US squad pulled off an improbable 4-3 victory over a Soviet team that was labeled the greatest hockey team in the world.
The College of New Jersey 800-freestyle relay team assumed the role of the US and Kenyon College the mighty Soviets. There was no hockey rink in this face off, but instead, a pool of water, eight starting blocks, and eight lanes.
Entering the event at the 2015 NCAA Division III Swimming and Diving National Championships in Shenandoah, Texas, the Lions were a considerable underdog to the Lords. And that may even be an understatement. TCNJ's seed time was more than seven seconds slower than Kenyon's.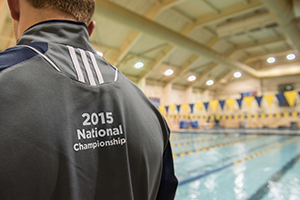 "On paper, we had no earthly reason to think we could beat them," says Bishop. "They had the two-time national champion in the 200-free leading off, a 200-free All-American swimming second and another freestyle champion anchoring. On paper, we had no chance."
What couldn't be captured on a preliminary heat sheet—intangibles like heart, tenacity, and a will to win—made the difference. Ryan Gajdzisz '17, Brett Pedersen '15, Scott Vitabile '17, and Jason Ivins '17 all swam the fastest 200 meters of their lives.
The sum of those parts resulted in a national title.
"That race was the most satisfying race I have ever watched," says Bishop, the 2014 NCAA Division III Swimming Coach of the Year. "They all swam personal bests and raced for each other. That Kenyon team was stacked and the [TCNJ] guys just believed they could win it."
The following night, the Lions found themselves in a much different role. Joseph Dunn '16, Brian Perez '15, Vitabile and Pedersen suited up in the final event of the 2015 championships—the 400-free relay, which they won in 2014—and launched what was arguably the most thrilling race of the week. Five different teams held the lead at one point in the 16-lap race. When Pedersen touched the wall at the finish, the program record time of 2:57.85 was identical to that of the University of Chicago. TCNJ defended its national title with a shared first-place finish.
These two wins—the third and fourth freestyle-relay national championships for Bishop and the Lions, following on the heels of two the year before—beg the question: What produced this surge of success?
"I don't think you can point to just one thing," says Bishop. "Our swimmers are high-quality athletes, but we have always had great athletes in the program. We don't let anyone outwork us and we believe in and swim for each other."
—Mark Gola