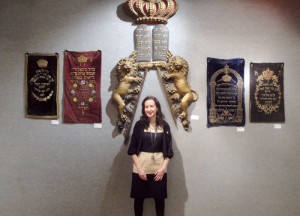 Visiting professor Rachael Goldman straddles two different worlds.
One is her classroom, a popular spot for history students.
The other is in the rarified world of Bonhams auction house, one of the world's largest auctioneers of fine art and antiques. Her role there is to assign a value to various pieces of Judaica. A term used to describe any number of items associated with Judaism, Judaica covers a vast field, ranging from centuries-old documents to photos of ordinary life in the shtetls of Europe and documents from the Holocaust era.
Since joining the Appraisers Association of America in 2002, Goldman, an assistant professor in the history department, has valued objects as varied as a letter from Chaim Weitzman, the Zionist leader and first prime minister of Israel, carvings from a synagogue, clocks advertising kosher meats and ancient coins.
But none have proved more controversial than Holocaust-related Judaica, which Goldman believes should be on display in museums rather than held in private hands. "It's blood money. It's very recent. And it involves people who suffered tremendously," she says.
She is not a collector of Judaica herself: " If you study it, you shouldn't collect it. I consider that a conflict of interest," says Goldman, the granddaughter of Holocaust survivors. "I don't collect Judaica not because I don't like it, but because it's too expensive."
In her class at TCNJ she teaches students why a particular piece is valuable.
Assessing value is a complicated business, based on comparable sales and historical significance. Goldman studies a database of recent sales. "Auctions always involve fair market value." Not long ago she assessed some newspapers dating back to the 1780s and 1790s, which she valued at between $40,000 and $80,000.
A couple of her students were so fascinated by her work that they showed up at the preview of an auction at Bonhams' New York branch.
Whether students are Jewish or not plays absolutely no role in their interest in her work, she says. "I find that really impressive," she says. "They're fascinated by history. With them it's "Wow, look at these curtains from the 1800s."
---
—Mary Jo Patterson