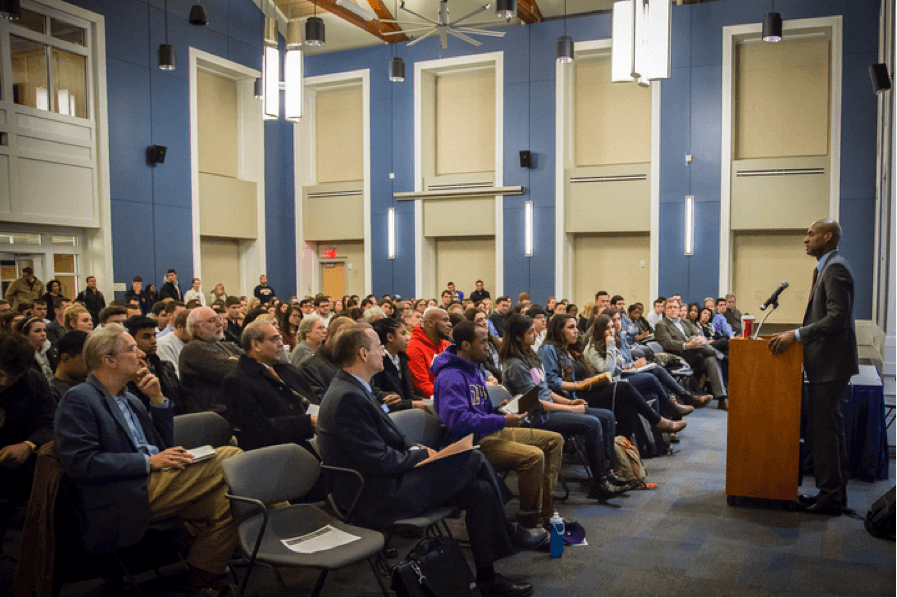 The killings of young black Americans by police officers in Missouri, New York, Cleveland, and elsewhere have inspired a steady drumbeat of condemnation and protest. But New York Times columnist Charles Blow believes the deaths of Michael Brown, Eric Garner, and Tamir Rice, among others, could also provide "a springboard to a higher discussion."
"It provides an opportunity to discuss how the theology of personal responsibility and personal choice interact with cultural context and structural connectivity," Blow said during a lecture at TCNJ last week on "Race and Policing in America." "It offers us all an opportunity to bring our package of preconceptions into the open and sort through them in a search for the truth."
Blow said much of America's racial divide can be traced to our preconceptions—and misperceptions—about crime, punishment, and the justice system. He cited a survey by The Sentencing Project that showed whites to be more punitive—more likely to favor capital punishment and mandatory minimum sentences—even though statistics show they are less likely to be a victim of crime. He also pointed to television news reports, which he said over-represent blacks as crime suspects and whites as crime victims.
"When we think about crime," Blow said, "we think 'black' even when it's not present." The effects, he said, "are absolutely devastating for society in general and blacks in particular."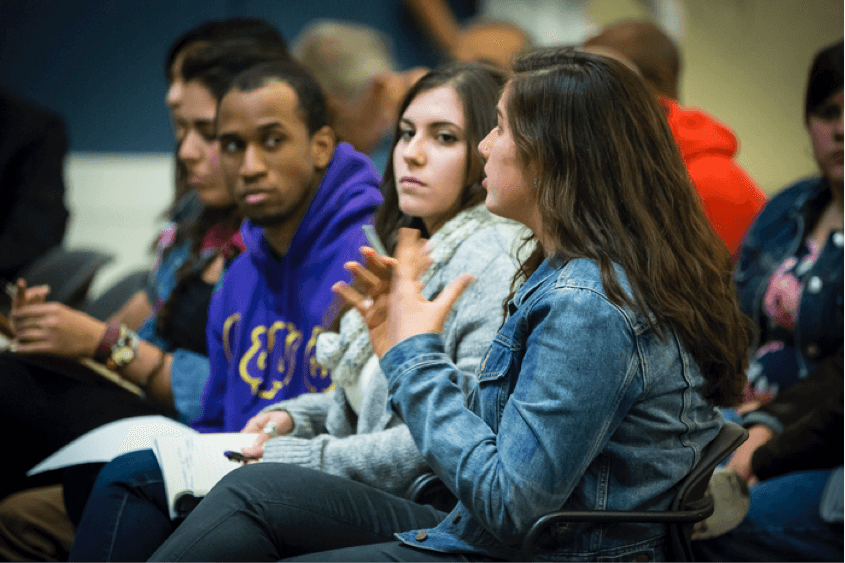 Blow's 45-minute lecture, delivered in the School of Education, drew a rapt audience of roughly 150 people, among them Madina Ouedraogo, a first-year student from Newark. Ouedraogo noted how common misperceptions can lead some people to become "involuntary oppressors" of others. "I think it's really important to understand these issues," she said, "and also how they affect people of color."
Blow acknowledged the difficulties and dangers inherent in police work, and he wondered how a police officer's regular interaction with people who break the law might affect the officer's perception of everyone else.
"If you overwhelmingly see the bad in people, does it diminish your impulse to see good?" Blow asked. "Are your fears heightened, and your trigger finger made more itchy, because you're more worried about making it home to your family than about the person you encounter making it home to his family?"
He said most blacks simply want officers to show "an equitable modicum of concern" for law-abiding people. Recalling the death of Tamir Rice, the 12-year-old Cleveland boy who was playing with a toy gun in a park, Blow noted that Tamir was shot by a police officer just two seconds after the officer arrived in his patrol car. When Tamir's distraught 14-year-old sister came on the scene, Blow noted, she was not allowed to approach her brother's body and was instead wrestled to the ground and handcuffed.
Meanwhile, Blow said, four minutes passed before any of the officers at the scene administered aid to Tamir. "How excruciating the pain must have been," Blow said. "How slowly the time must have passed."
Likewise, he recalled that New York City police officers made no attempt to resuscitate Eric Garner after he lost consciousness, and that Michael Brown's body lay in the street for four hours following his shooting in Ferguson, Missouri.
"Equality must be won by every generation," Blow said in acknowledging the racial divide that remains in America. But he insisted that all Americans continue their efforts to bridge that gap. "The conversation is hard," he said, "because we are yelling across a canyon of experience. Together, we can and must make our collective way forward."
—Christopher Hann