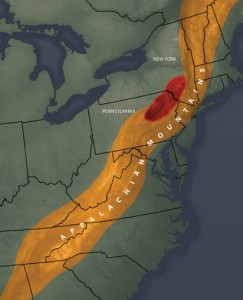 Your bewilderment over why the Appalachians take an odd turn at Pennsylvania and New York can come to a blessed end. Associate Professor of Physics Maggie Benoit and some of her colleagues—with a little assistance from the National Science Foundation—solved the mystery in 2014.
Now Benoit finds her roles reversed. Since 2013, she's been on loan to the NSF in Arlington, Virginia, to help her fellow scientists secure much-needed funding for their research.
Within the federal agency, Benoit focuses on EarthScope, which Popular Science named the Most Epic Science Project in 2011. EarthScope exists to learn about plate tectonics, using North America as a natural laboratory to better understand geological hazards like volcanoes and earthquakes.
Benoit's responsibilities as an NSF rotating program officer include giving final recommendations on how to allocate EarthScope's $5.6 million in annual grant money and mentoring junior colleagues on how to up their chances of getting funded.
"I really enjoy the 30,000-foot level of seeing what's going on in the field of geosciences," she says. "I also really enjoy mentoring early-career scientists."
Back to that bend in the Appalachians.
Last year, Benoit and her colleagues published a study using data from the EarthScope USArray seismic network that finally explained why the relatively straight mountain chain goes rogue in Pennsylvania and New York. They discovered a dense block of volcanic rock beneath the bend that forced the Appalachians to curve during formation hundreds of millions of years ago.
After her NSF rotator stint ends in August and she returns to TCNJ, she plans to tackle the mystery of why the Appalachians still exist at all.
"They are very, very old mountains that should have eroded flat a long time ago, but they haven't," says Benoit. "We're trying to look at why they're there and what's holding them up."
---
—Meeri N. Kim