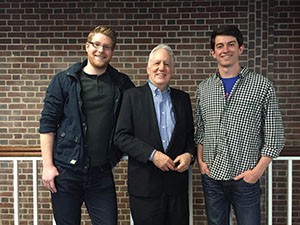 Communication studies professor John Pollock has a new book out this month—and 28 TCNJ students share credit in its creation.
Pollock says he has long encouraged his students to publish their research. He packed his 2007 book, Tilted Mirrors: Media Alignment with Political and Social Change, with their case studies, but for Journalism and Human Rights: How Demographics Drive Coverage (Routledge, 2015), Pollock's students became his co-writers. In six of the book's eight chapters, TCNJ undergrads—Angelica Anas '14, James Etheridge'15, Domenick Wissel '12, Jordan Kohn '14, Victoria Vales '12, Kelsey Zinck '14, Kyle Bauer '15, and Emaleigh Kaithern '15—served as senior authors.
Publishing the work of communications undergraduates may be unprecedented, says Pollock. "I know of no other books co-authored with undergraduates, whether published by Routledge or any other publisher."
The book looks at how demographics push rights issues—such as human trafficking, water contamination, HIV/AIDS, and same-sex marriage—into the media's consciousness. As the senior author of a chapter on international newspaper coverage of child labor, Kohn looked at how certain demographics influenced how child labor was covered, and whether this varied between countries.
Kohn applied to graduate schools for public health and is currently a master's student in John Hopkins' program, with a focus on health education and communication. Says Kohn: "It wasn't until I began working with Dr. Pollock that I discovered what I really wanted to do with my education."
---
—Molly Petrilla