After months of preparation, TCNJ will welcome its first group of Cooperman College Scholars to campus this summer. For nearly two dozen students, all rising high school seniors from Essex County, New Jersey, it will be a first taste of the TCNJ experience—but thanks to the new Cooperman program, surely not the last.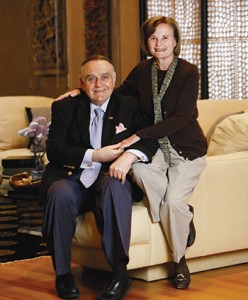 Launched this year, the Cooperman College Scholars program has partnered with four select colleges and universities in New Jersey and Pennsylvania—including TCNJ—to help teens from Newark, Irvington, Orange, East Orange, and other Essex County high schools pursue higher education.
"We're ecstatic to be working with them and so proud to be affiliated with Mr. Cooperman," says Vice President of Enrollment Lisa Angeloni, referring to the program's benefactor and namesake, Leon Cooperman. "He's dedicated his wealth to really helping future generations, and TCNJ is all about helping the next generation succeed."
The Cooperman College Scholars program, established earlier this year by the Leon and Toby Cooperman Family Foundation, is funded through a $25 million gift by Leon Cooperman to support academically talented, highly motivated, college-bound students with financial need who reside in Essex County, New Jersey, the longtime home of the Cooperman family. Cooperman, raised in the South Bronx by Jewish immigrant parents who had fled Poland, was the first member of his family to attend college. Recognizing the importance of higher education to his own successful career in business and finance, Leon created the Cooperman College Scholars program to insure student of limited means have the same opportunity to succeed.
Cooperman Scholars will start with a three-week, on-campus experience the summer after their junior year in high school. At TCNJ, they will live in the residence halls with Pride Mentors and Bonner Scholar students. They will participate in a college workshop organized by the Center for Student Success, and they will take two classes, one of which will center on community engaged learning through the Bonner Center.
After the Summer Academy, both Cooperman and TCNJ staff will offer application preparedness support as well as support in helping to complete required financial aid information to all Cooperman Scholars who plan to apply to TCNJ. Those who enroll at TCNJ will receive a 4-year scholarship from the Cooperman Scholars program, which will pay costs (up to $9,000 per year) that are not covered in their financial aid package.
"Cooperman College Scholars are good matches for TCNJ," Angeloni says of the visiting summer students. "We're excited to attract academically talented students from diverse backgrounds. TCNJ and the Cooperman College Scholars program share the same goal – providing talented students with the tools to succeed. "
---
—Molly Petrilla