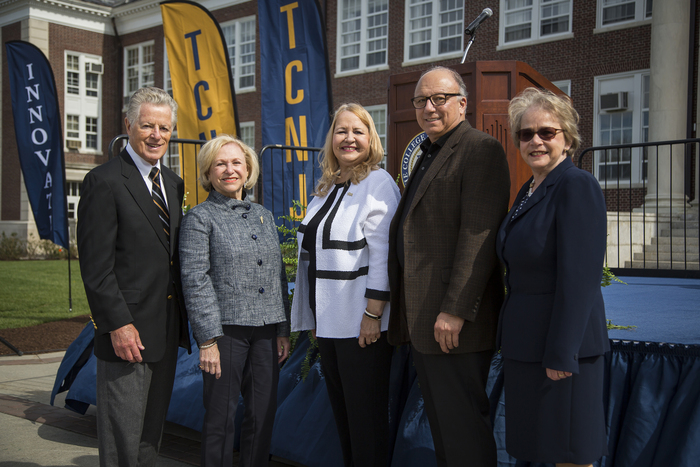 On Saturday, April 25, approximately 1,000 students, faculty, staff, alumni and friends gathered on a sunny and crisp Quimby's Prairie to be a part of college history.
The moment came at 4 p.m., when TCNJ President R. Barbara Gitenstein took center stage for the big reveal—the special announcement that the college was undertaking a major initiative to ensure a TCNJ education continues to be both exceptional and accessible for hardworking, high-achieving students.
The campaign—subtitled "Innovate, Inspire, Engage"—is the college's first-ever comprehensive fundraising effort. With a goal of raising at least $40 million by June 2017, the campaign will advance four priorities: student support, academic enrichment (including support for faculty research and scholarship), the student experience, and capital improvements.
All totaled, The Campaign for TCNJ has already raised a total of $24,890,515—"If you're a president, you always round up," said Gitenstein, "so $25 million."
During the quiet phase of the campaign, one of the first gifts came from Barbara Meyers Pelson '59. Her $1 million gift, announced in December, created TCNJ's first endowed chair: the Barbara Meyers Pelson '59 Chair in Faculty-Student Engagement. Biology professor Janet Morrison will become the inaugural chair, starting her three-year term in fall 2015.
"As an alumna, I know firsthand the impact that our school makes in the lives of all who attend," said Pelson, a co-chair of the campaign. "It has made such a difference in my life, and I have found such joy in supporting TCNJ and the incredible students who are pursuing their dreams here."
Allen Silk, who is co-chairing the campaign with Pelson, spoke of having just met Erica Wisk, a junior special education and psychology major. She is the beneficiary of a scholarship Silk created to support transfer students.
"She transferred to TCNJ this fall after earning her associate's degree at Brookdale Community College last spring," he said. "Erica is an amazing young woman with a bright future ahead of her. She is exactly the kind of student we want here at TCNJ and this campaign is about ensuring students just like her have access to the outstanding education that we offer."
Silk and his wife Judy are creating a $100,000 scholarship fund to support transfer students like Wisk.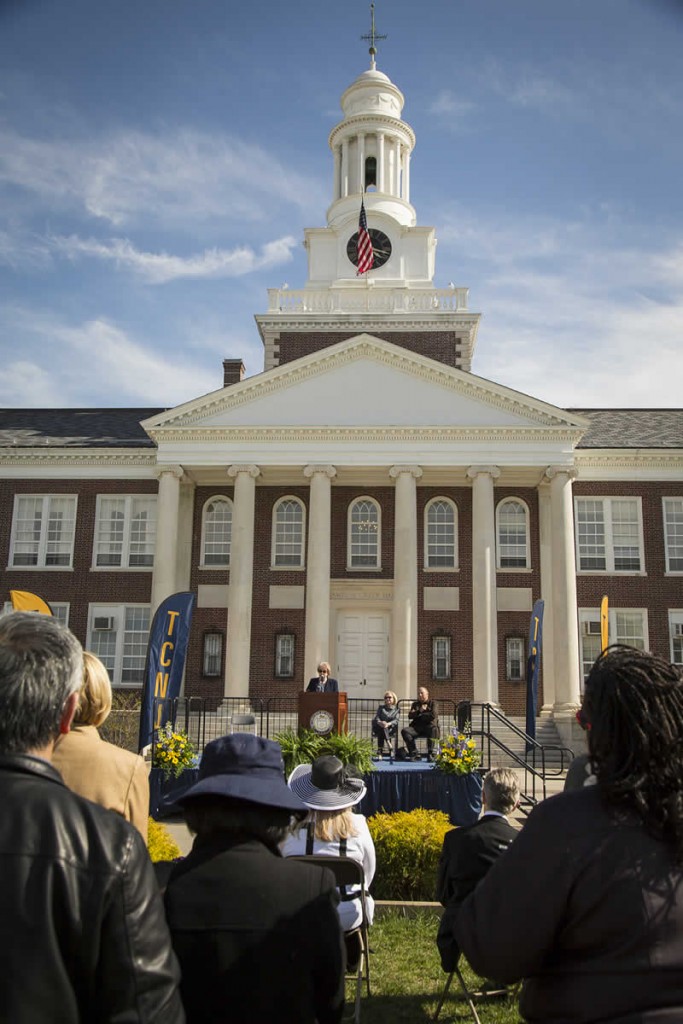 Among the gifts announced publicly for the first time on Saturday afternoon were:
Cooperman College Scholars has pledged scholarship support for nearly two dozen teens from Newark, Irvington, East Orange, and other Essex County high schools, which will allow them to pursue higher education at TCNJ.
The Helene Fuld Charitable Trust, valued at $6.6 million for scholarship support for TCNJ nursing students.
Patricia Busk '66 and her husband Dr. Michael Busk, have committed $1 million to establish a scholarship and mentorship program in support of students from an urban setting who wish to pursue a degree in education and return to work in their home cities.
Randy Lumia '84, and his family have created a $50,000 endowment to support TCNJ's LeaderShape program and other programs to build valuable leadership skills in our students.
The Peter and Mary Russo Family Foundation, thanks to alumna Nancy McDevitt '85, has established a $25,000 endowment as well as annual support to students and faculty from the School of the Arts and Communication and the work they are doing with businesses and organizations in downtown Trenton.
Jim and Kathy Thoresen have made a $100,000 commitment to support the Women's Soccer program. Kathy is a 1989 graduate of the college.
Visit The Campaign for TCNJ for more details on these and other gifts.
---
—Emily W. Dodd '03