Despite a chilly, rainy forecast and a pre-sunrise departure, Poonam Kotak '16 was one of several dozen students who climbed aboard a bus to the nation's capitol this semester for TCNJ's first-ever DC Networking Day.
The purpose of the trip was to link students with successful alums who can explain how to search for that first job and make a successful transition from college to the real world.
"I'm so glad I went. I knew kind of what I wanted to do but I didn't know how to go about it," says Kotak, who dreams of joining the Foreign Service.
The idea was the result of conversations between the Career Center, the Office of College Relations, and The Trio Partnership Group, which is made up of representatives from TCNJ's trustee, foundation, and alumni boards. The partnership's job is to increase involvement across the three boards, and strengthen the college.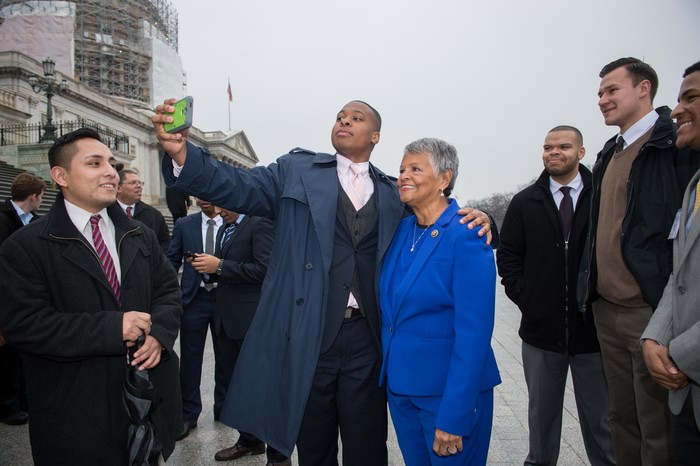 Psychology major Jack Baldwin '15 got to meet alums in the public policy world, where he is headed. "It was really cool," he says. "I talked to a recent graduate who's working at Deloitte, the [global] consulting firm, and a woman who went to law school and now works in the government's patent office."
Alumni who participated said they admired the students' drive to get advice. "I was really impressed. They were very engaged, and very well-prepared," says Janna Raudenbush '09, who majored in communication studies. Today she is a public affairs specialist at the U.S. Department of Health and Human Services.
Kevin Gilligan '09, also a communication studies major, spent his lunch hour taking questions from students. "I could tell they had finding jobs at the top of their minds. I [told] that they need to keep working at it," he says. "I gave them interview tips and told them the first job they get out of college will not be forever." Gilligan currently works in the strategic investments division of NASA.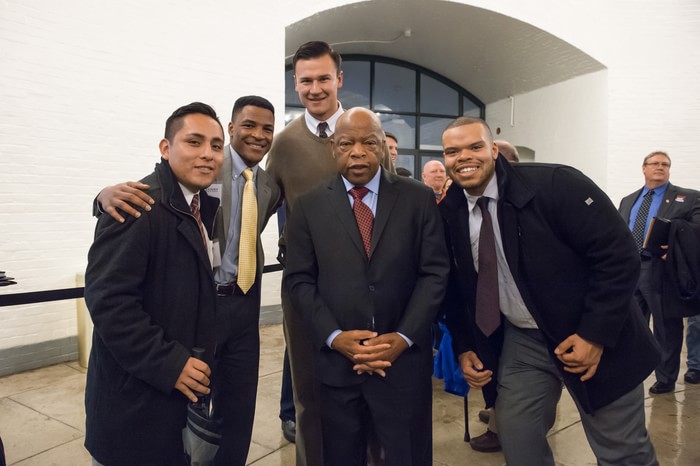 Humanities and Social Sciences Dean Ben Rifkin, who was on the trip, said it was especially valuable to liberal arts students: "If you major in engineering or nursing, the career path out of college is clear. A program like this shows our liberal arts majors the many ways they can apply their skills in careers they may never have considered. For the nearly 50 students who attended, the trip was very productive."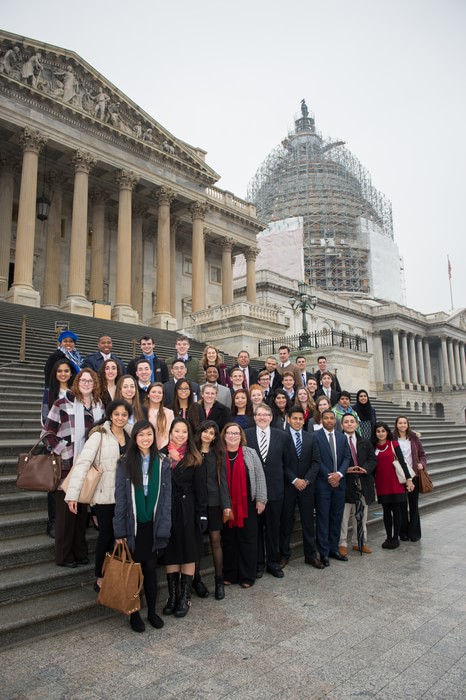 The DC Networking Day will be repeated in 2016, with the potential to be expanded into a two-day event.
—Mary Jo Patterson