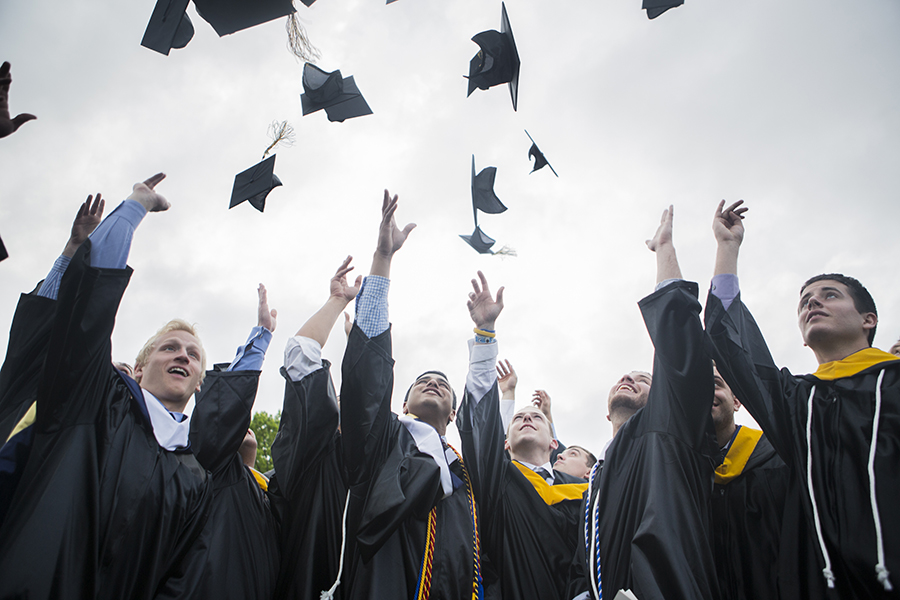 We asked members of the Class of 2015 what is perhaps the single most terrifying question you can ask a graduating senior:
"So, what are you doing after graduation?"
Here's what lies ahead for 59 of them:
Briana Saddler, criminology
She's already working as a data analyst in the Asset Forfeiture Division of the Drug Enforcement Administration headquarters in Arlington, Virginia.
Tara Nealon, mechanical engineering
With full funding, she's entering Princeton's PhD program in mechanical engineering, concentrating on fluid mechanics and/or thermodynamics. 
Brian Hurler, finance
"I'm currently building an athletic apparel brand for competitive indoor beach volleyball players." The brand—Brenwal—is named after the street in Ewing that was home to the off-campus TCNJ volleyball house.
He'll also start a position as an analyst at CIT Group, Inc.
Andrew Wallach, international studies
He'll attend University of Pennsylvania Law School in the fall.
Angelo Addesso, mathematics
He's heading for the Peace Corps, where he'll volunteer as a math teacher in Tanzania.
Daniel Chawla, biology
He'll go north to Yale for a PhD in biology with a concentration in physical and engineering biology.
Anna Poruks, psychology
She's off to Senegal as a Peace Corps Health Extension volunteer.
Erica Krause, computer science
She'll work on naval radar display systems as a junior software engineer at Mission Solutions Engineering.
Brandon Dubov, economics
He'll start law school—scholarship included—at the University of Virginia this fall.
Chelsea Van Orden, women's and gender studies
She'll work with Good Shepherd Volunteers as an independent living consultant for individuals who have aged out of foster care.
Olivia Porada, vocal music performance
She's off to Boston University for her master's degree.
Christian Balevski, finance
He is starting a solar energy technology company—Solar Divide—focusing on developing technologies to increase the efficiency and output of large-scale solar farms.
Stephanie Gates, history
"Doing some soul searching by way of music festivals and road trips. Then, fingers crossed, I am able to obtain a position as a history teacher!"
45 members of the Class of 2015…
will work for one of these companies: Bank of America, Bloomberg, Deloitte, EY, Goldman Sachs, JPMorgan Chase, Johnson & Johnson, KPMG, PricewaterhouseCoopers, Target, and WithumSmith+Brown. (Current as of May 8, 2015)
Shelby Allen, chemistry
She is entering a PhD program in chemistry at Johns Hopkins.
…And here's to those seeking an altogether different kind of fulfillment
Carmen Cincotti, biomedical engineering
"Competitive Eating. I'm signed up for a hot dog eating contest in June sanctioned by Major League Eating."