Cheers echoed throughout the Brower Student Center atrium during Alumni Reunion 2015 as Lions from years past raised their glasses and celebrated the end of an era. "To the Rat!" they clinked, recounting memories of long hours spent at the beloved campus watering hole that will soon close forever.
"We had the best times here," said Lisa Wallenburg '87. "The music was loud, the lighting was dark, and the room was crammed with people. It was the place to be."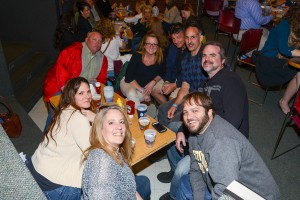 The Rathskeller, which opened in 1976 and has long been the go-to spot for beer and burger, is closing this May as part of a $38 million renovation of the Brower Student Center. The redesigned building will include a new dining area and a large, flexible meeting space that can be transformed into a movie theater. But no Rathskeller.
"We're pretty sad to see it go," said Brandon Rose '91, a student manager and bartender at the Rat from 1987 to 1991. Rose met his wife, Bonnie Neil Rose '94, at TCNJ and the two were married in the Spiritual Center in 2007.
"Not only did we get married here, but we had our rehearsal dinner in the 1855 Room and our wedding reception in Eickhoff Hall," said Rose. "Clearly, I love everything about TCNJ, but it's the steak fries with mayo from the Rat that I love the most!"
The Roses weren't the only couple to have the restaurant play a part in their love story. Frank Robina '01 proposed to his wife, Jessica Petroski Robina '04 by Lake Sylva in 2008. Immediately after, the couple headed to the Rat to celebrate. They were wed in 2009 and had their first child in 2012.
Prior to the Rat's opening, students could enjoy a pint at the Pub, which was in operation in the original Phelps Hall from 1973 to 1984. The Rat eventually replaced the Pub in popularity, but it wasn't always the bustling bar Wallenberg remembers, and maybe that was part of its charm.
"I actually remember it being pretty mellow, maybe some light acoustic music," said Stephen Piccininni '83. "It was a place to come and enjoy a drink and a burger while getting some homework done. A lot of times, I would come here with a professor for lunch."
Carl Sanchez '90 frequented the bar during his days as a student employee in Packer Hall. "I was bored at work," Sanchez said. "So, I decided to spend my day shift at the Rat. If a coach needed me, the desk attendant at Packer would call over here, and I would run back over. I did that a lot," he said.
Sanchez wasn't the only one to find creative ways to spend time at the Rat.
"I remember getting my hand stamped at the bar entrance, running back outside to meet friends who weren't old enough to get in, having them lick their hands and press it against my stamp. It worked like a charm!" said Wallenburg.
Annette Bigger '86 also had some tricks up her sleeve. "Back in the day, you wrote your own information onto your student ID card. We just wrote our birthdays down as a year or two earlier than they actually were," she said.
There were plenty of good reasons to go the extra mile to get in. Over the years, musicians such as Richie Havens, Roger McGuinn, and Jorma Kaukonen, played there, as did a variety of bands including Moby Grape, The Nerds, and Less Than Jake. Comedians George Lopez and Stephen Lynch also performed there.
The Rat's open mic night was especially popular. "We had some serious student talent," said Chris Bowman '99, who worked there from 1997 to 2004 and considered the place "a second home."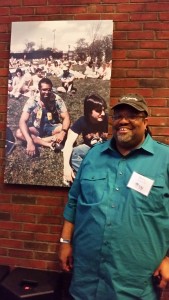 Dorian Parreott '88, remembered playing every Tuesday night with TCNJ's Jazz Band, led by jazz musician and former professor Tony DeNicola. "It was a packed house," Parreott said. "Some of my greatest memories are of those nights."
Bowman agreed. "On some nights, it was so packed that the wait for a plate of fries was up to two hours. But the beer was only $1.25 back then, so it was worth it."
While the beer prices have risen, "some things stayed the same," said Bigger. "The energy, the laughter, and definitely this carpet!"
Read more memories from the Rat courtesy of The Signal, and check out more archival photos on Facebook. Have some you want to share? Email them to us!
---
—Deanna Harkel MA '12