After graduation, Hayley Graves '15 hopes to land a design agency job that allows her to make use of her talents as an illustrator. And her abilities are considerable. The senior won first place in TCNJ's Spirit Mark Competition, in which the college challenged art students to draw a cartoon version of Roscoe, the college's mascot.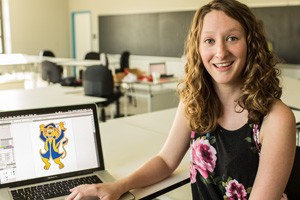 "Illustrating is a huge interest of mine, and I try to incorporate it into as many projects as possible," says Graves, a graphic design major. "My inspiration for the Roscoe design was to create a friendly and inviting character that fit in with the rest of the college's design elements."
Graves' design will join the school seal and the college and athletics logos as part of TCNJ's official visual identity.
"We were looking to add a mark that was fun and could be used in casual settings," says Dave Muha, the college's associate vice president for communications, who was also a competition judge. "Hayley's Roscoe displays a lot of personality, and we liked how her bold lines, including his mane, tied-in visually to our athletic mark."
Muha noted the judging panel, which included representatives from the School of the Arts and Communications, Office of Admissions, and Office of Student Affairs, had a difficult time selecting a winner.
"The entries represented an amazing display of talent," he says. "We loved the variety. There was something in each entry that spoke to us."
Elizabeth Leach '15 and Michelle Kozak '16 were awarded honorable mentions in the competition.
---