Golden Globe-winning actor Jeffrey Tambor stands on the Kendall Hall stage and takes deliberate steps forward, saying with each footfall, "dream, dream, dream." Then he stops and smoothly extends one foot sideways, saying "s—l—i—d—e."
"I've taught acting for 40 years, and I'm always interested in why people stop pursuing their dreams," said Tambor, best known for his roles as George Bluth, Sr., the incarcerated patriarch in Arrested Development, and in Transparent, as Maura Pfefferman, a transgender woman.
As Senior Week keynote speaker on campus May 20, Tambor talked to about 250 students on "performing your life," peppering his funny and often personally revealing 90-minute presentation with references from Jonathan Franzen to Martha Graham to Joseph Campbell.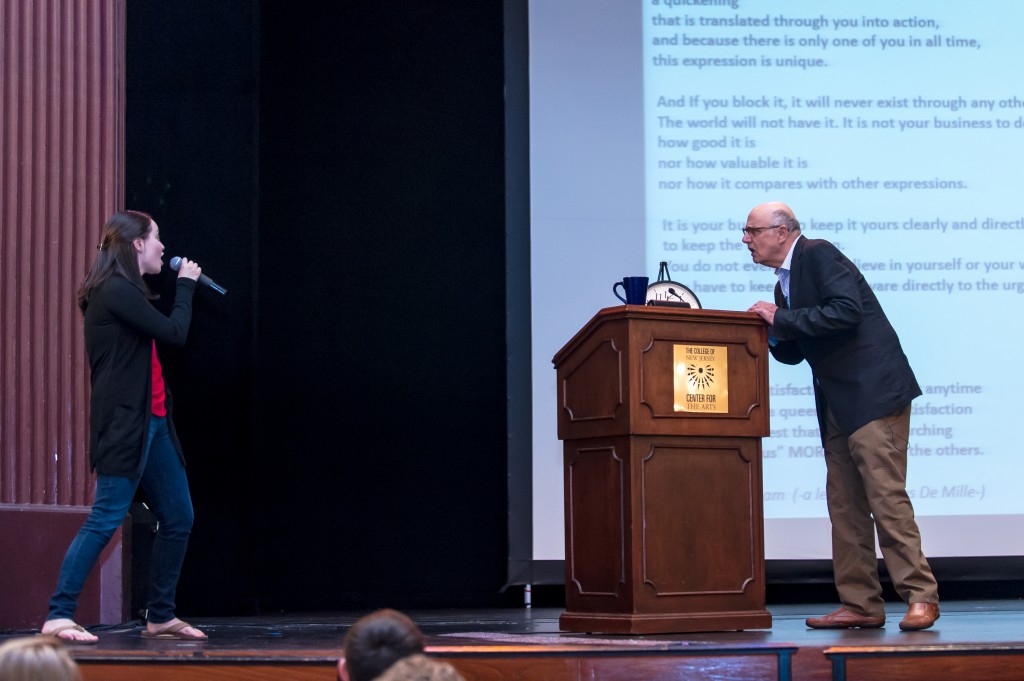 "The world is full of people that have stopped listening to themselves," said Tambor, quoting Campbell, "or have listened only to their neighbors to learn what they ought to do…."
"A dream is not something your parents want," he said. "A dream is something that grabs you by the neck, and you say, oh s**t."
For Tambor that moment came when he was an overweight 17-year-old in San Francisco who was told to cross a stage and lift a prop boulder. "I picked it up, held it over my head, and burst into tears," he said. Feeling a strength born from being in his element, "I knew [acting] was what I wanted to do with my life."
The 70-year-old recounted both the highs and lows of his life—his children, whom he calls "his teachers," and his earlier struggles with alcohol—but mostly urged the seniors to find their purpose.
"You get the call. And God help you if you don't answer the phone," said Tambor, to great laughter. "Some of you have answered, some have deferred answering. Some of you are not listening."
Tambor urged the seniors to freely make mistakes and expect to lose a job at some point in their lives. "I've been fired twice. Jane Fonda fired me," he said, "but guess who handed me my Golden Globe?"
---
—Renée Olson, director of strategic communications