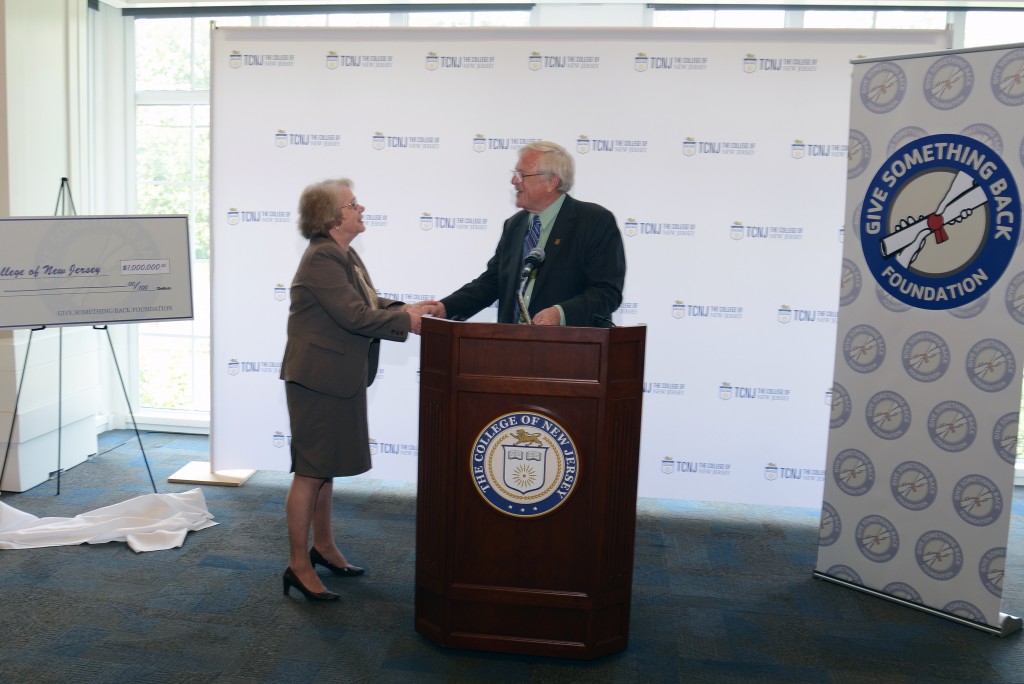 Fifty high school students will be able to pursue a college education at The College of New Jersey at no cost, thanks to $1 million in support from the Give Something Back Foundation (GSBF).
"GSBF is thrilled to partner with The College of New Jersey to provide maximum access to a four-year college education to qualified students of modest means," said Robert Carr, founder of GSBF. "TCNJ shares our mission of helping students realize their full potential." Carr is also chairman and CEO of Princeton-based Heartland Payment Systems.
"As a public institution, we are committed to serving talented students from all socioeconomic backgrounds," said TCNJ President R. Barbara Gitenstein. "This gift will help ensure that anyone who is intellectually capable will have access to a high quality TCNJ education."
Carr joined Gitenstein today on campus to officially announce the commitment.
Beginning in Carr's hometown of Lockport, Illinois, the foundation has already awarded 250 scholarships to high-striving students who don't have the financial resources to attend college. This year the foundation expanded to New Jersey, where Heartland is based in Princeton.
Students supported by the GSBF are identified in ninth grade, assigned a mentor who advises them and helps prepare them to succeed in college, and provides assistance in assessing career and college choices. Once in college, this program is designed to graduate students in four years free of debt. The first students are expected to enroll at TCNJ in the fall of 2019. 
---