Women who try to have it all are bound to fail. If they want to be an investment banker and earn a massive salary, something has got to give on the home front. But if they want to make every one of their kids' soccer games, then they're not going to be able to work a 60-hour workweek. Something, in other words, has got to give.
So said Debora Spar, president of Barnard College, speaking to a packed auditorium at TCNJ this past semester about her latest book, Wonder Women: Sex, Power, and the Quest for Perfection. The program was in support of the college's strategic initiative around diversity and inclusion.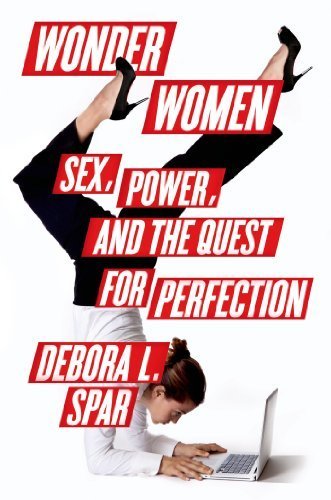 Spar began writing her book while she was at Harvard Business School. One day she suddenly realized she was the only woman in the group of smart, ambitious women with whom she'd gone to college who was still working. She was also the only woman with tenure. Curious, she began collecting data to see how often this happened in other professions. It turned out to be widespread.
"The data showed that once you get to the top tier of any sector, the women essentially disappear. At law firms, women constitute 50 per cent of associates but only 16 per cent of partners. I refer to it a 'the 16 percent ghetto,'" she said.
Spar said that women's quest for perfection is not limited to white, straight, happily married mothers like herself. (She has three children.)  But "we're not getting a broad range of voices on this topic," she said.
This quest for perfection is currently producing girls who try so hard to achieve that they're mentally and physically exhausted by the time they reach high school, according to Spar.
Yet her book ends on an optimistic note. Girls and women will benefit it we get them comfortable with the idea that they don't have to be perfect, and that their life will likely be a series of tradeoffs: "We need to acknowledge that biology matters. And we have to bring men into the conversation."
Not all of the students in the audience agreed with her view that gender issues are less problematic than they used to be. "You use phrases like 'bad old days.' That implies things have gotten better. But they haven't. What about people without normative gender identification?" asked Steven Thompson '15, during the Q&A session that followed Spar's talk.
Spar said "gender normativity" and same-sex marriage were huge topics at Barnard this past year. [On June 3, Barnard trustees agreed that the college "will consider for admission those applicants who consistently live and identify as women, regardless of the gender assigned to them at birth."]
"It's not easy. My generation needs to be educated," she said.
—Mary Jo Patterson