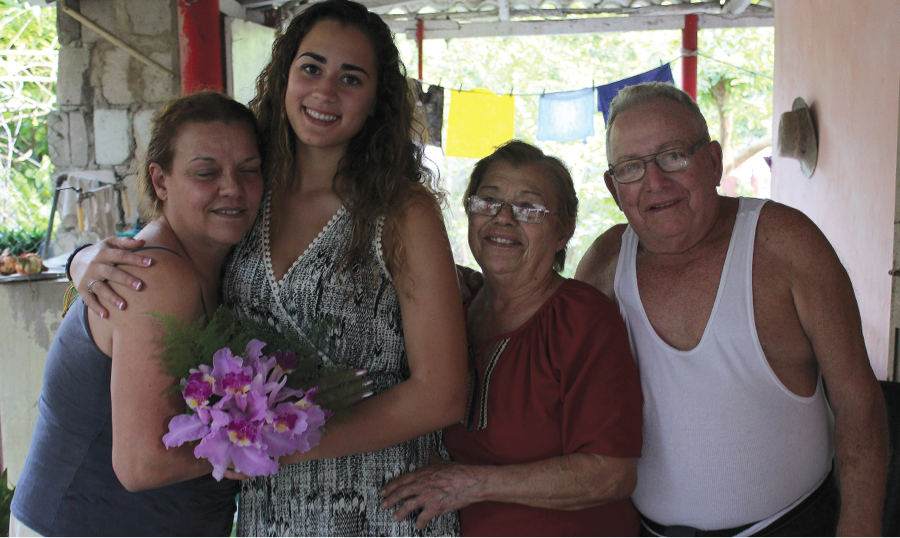 I'd grown up hearing stories about my family in Cuba—especially about Roberto, my abuela's brother. My grandparents on my mother's side left Cuba in 1964 when they could no longer put food on the table for their children. My abuela, my grandmother, couldn't tell her father or brother she was leaving because both were strict Communists and would have stopped her. They might have even had her arrested.
Still, my abuela remained close with my great uncle after coming to the U.S., and so, when I left for Cuba last winter, I lugged a suitcase stuffed with 50 pounds of goodies she wanted me to bring to him: Goya spices, Café Bustelo, sugar-free chocolates, razors—all things that are prohibitively expensive in Cuba.
When I first saw Roberto in Cuba, I cried. I was overwhelmed. He looked just like my abuela: short and gordito (a little chunky), with blue eyes and pale skin. We hugged and kissed, and it felt like we had known each other our entire lives. I couldn't believe I was looking at the legendary Roberto, the one that my abuela bickers with every couple days.
A few days later I traveled with him through La Habana and Cotorro. He showed me the little pink house where he and my abuela had grown up. I walked down the narrow streets she once took to work as a typist at GE. I went to church with a woman named Rosario who'd been her best friend when they were kids. Roberto, still a strict Communist, waited outside, but afterward he told me that regardless of our political views—and how different those are and will always be—we're family. We just won't ever discuss politics.
We went to my great uncle's house then, where I met my great aunt, Isolina, her daughter, Bettis, her daughter's husband, and their one-eyed black cat. They showed me pictures of my great grandmother. She was beautiful, thin with light brown hair, and had passed away from tuberculosis when she was only in her 30s. My great aunt cooked me a delicious criollo meal of chicken, rice, black beans, garbanzos, and tamales. We drank wine and whiskey in glass cups to celebrate my journey to Cuba. Hours passed, yet when it was time to leave I felt like I had only just arrived.
I'm excited that relations between the U.S. and Cuba are normalizing. My great aunt and uncle are in favor of the changes, too. My great aunt visited the U.S. once, alone, and loved it here, especially because so much was new. I'm not sure Roberto will ever come, but he values family above everything, and he's happy that it will be easier and cheaper for us to visit him. In fact, he invited me to come back after graduation. Now I can go. This time, my parents and grandmother will come, too.
By Kaitlyn Galindo '15, as told to Molly Petrilla