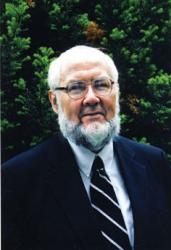 The world lost some of its gumption this week.
Dr. Robert Carlton Cole, professor emeritus of English and creator of the college's journalism major, died on August 4, 2015. He had been battling Parkinson's disease.
Cole arrived in the fall of 1973, just as the Watergate scandal was unfolding. "Watergate was feeding the students," Cole said in a 2006 article in The Signal. "Watergate was the peak. Through Watergate, we were heroes. Journalists were highly respected."
He retired in 2006 at the age of 68, but continued to help TCNJ's budding journalists land jobs. Cole reportedly placed over 400 students in journalism jobs since he started at the college.
"Bob Cole taught us journalism as it should be, while wisely warning us that it often falls short of its mission," said Ian Shearn '09, a former student who considered Cole both a friend and mentor. "He taught us with unwavering support, humor, and love. He sold no one short, knowing people develop at their own pace. His standards were high and his patience was endless. We left the college believing we could serve our country with a curious mind, a little gumption, and a pen."
Funeral services will be private. In lieu of flowers, donations may be made to the Robert C. Cole Journalism Prize. Visit give.tcnj.edu/ for more information.
Read more memories of Bob Cole, compiled by The Signal in 2006 in honor of his retirement and share yours on our Facebook page.
---
—Emily W. Dodd '03