The charm of oversized scissors and a big red bow proved more powerful than the summer heat today as crowds of faculty, staff, students, Ewing community members and VIPs gathered at 100 Campus Town Drive.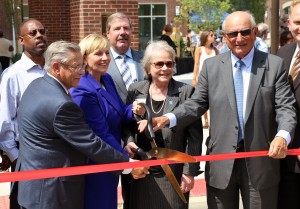 Acting Governor Kim Guadagno and Ewing Mayor Bert Steinmann joined TCNJ President R. Barbara Gitenstein for the obligatory ribbon cutting ceremony, marking the official opening of Campus Town at TCNJ.
"Campus Town enhances the living-learning environment at TCNJ, provides much needed student housing, and offers amenities to our neighbors in Ewing," said TCNJ President R. Barbara Gitenstein. "Thanks to our public-private partnership with The PRC Group, it was built without any tuition or public dollars."
Guests enjoyed giveaways and food samplings from the retail stores that will soon be moving into the 80,000 square feet of commercial space, and got a first look at the student apartments, which will soon be bustling with their new residents—446 students move-in on Sunday, August 23.
"TCNJ is busy maintaining its well-earned reputation as one of the best schools for the money in the country, but welcoming more students means a need for more beds," said Acting Governor Guadagno.  "Thanks to the P3 Program and Campus Town, TCNJ gets the benefits of expanded student housing, and Ewing gets the benefits of a new retail hub, without the cost."
---
—Emily W. Dodd '03