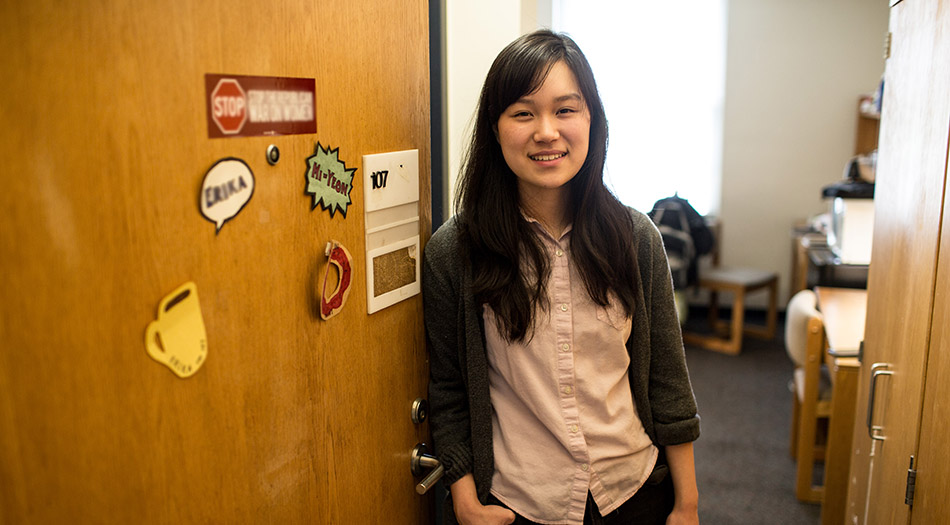 With over $20,000 in federal scholarships, Mi-Yeon Park is spending her junior year at Beijing Foreign Studies University in China. While she immerses herself in Chinese language and culture, she is also attentively tuned to the country's relations with the outside world, particularly North Korea.
Her plans to work with N. Korean refugees were dashed this past summer when a MERS outbreak struck South Korea, her anticipated base.
"Growing up, I didn't really know a lot about North Korea," says the junior from Ridgefield, New Jersey. "There are general perceptions people have, such as nuclear weapons and the 'crazy' Kim leaders, but there is much more than that. There are people experiencing human rights abuses, and that's what really shocked me."
In Seoul, Park had expected to launch "Remember My Name," a service project seeking to empower female North Korean refugees through education, including teaching English, resume writing, and public speaking. Such skills, she says, will help them become competitive job applicants, future leaders, and perhaps most importantly, determine their place in society.
All that will have to wait until next summer, when Park, an international studies major, will travel to South Korea—a country she last saw when she was 15 months old—and put her plans into action.
Momentum for the project began when Park was accepted to attend the Clinton Global Initiative University in Miami, Florida, a three-day meeting in March. She credits the gathering with providing the advice and support she needed to get the project off the ground—and the motivation to ultimately expand "Remember My Name" globally to assist female refugees from around the world.
It was the 2012 US presidential election that sparked her interest in human rights. She says that while the frontrunners' campaigns may not have explicitly addressed human rights in North Korea, American politics are invariably connected with international concerns.
"I realized that [a country's] politics affect everyone [in the world]," says Park. "The interests and rights of other people are my interests and rights as well."
—Emily W. Dodd '03