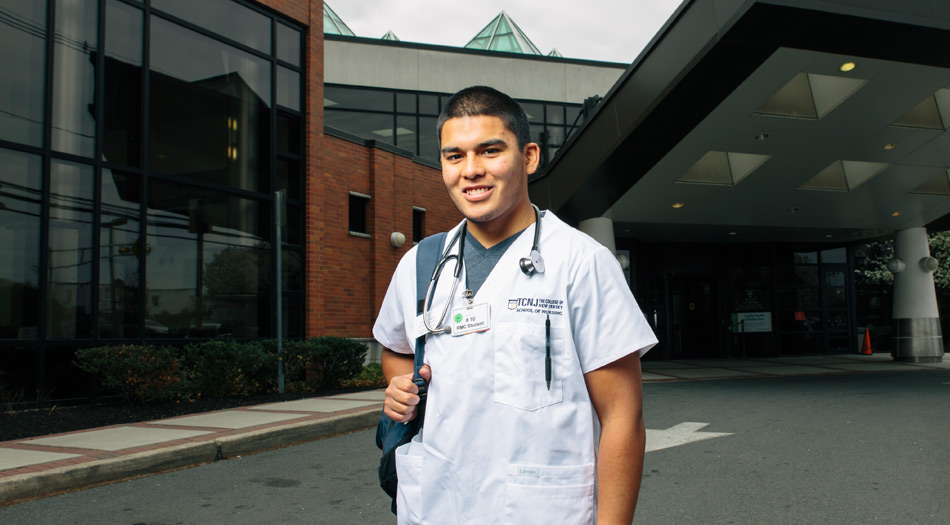 Edric Vites '17 was only 12 when his 7-year-old sister Risella died from biliary atresia, a rare, life-threatening liver disease that affects children. Her death changed the course of his life. He decided to enter the medical field, either as a doctor or nurse.
Vites essentially raised himself. After his sister died, his parents divorced and went their separate ways, leaving Vites to spend his high school years in Freehold, N.J., living with a friend and his family. The experience endowed him with a powerful streak of independence.
He made up his mind to attend TCNJ four days after visiting the college. "I thought the campus was beautiful. But the other influential factor was that I ended up getting enough financial aid to make TCNJ possible."
TCNJ made him a Bonner Scholar. The Bonner Scholars Organization provides financial support to college students throughout the U.S., allowing them to invest their time in community service rather than part-time jobs. The students are then required to perform 300 hours of service a year. He accepted the scholarship with enthusiasm: "Community service is an enormous part of my life."
During the 2015 spring semester he worked at Capital Health in Trenton, the trauma center for Mercer County, caring for patients on an inpatient cardiology unit. At his busiest, he would attend class for three hours in the morning, grab lunch, prep for the caseload of patients he would see the next day, and sit in on three more hours of class.
The experience at Capital Health awakened memories of Risella's struggles and short life. It also made him realize that he preferred care to repair, that nursing—not medicine—pulled the most powerful strings in his heart: "In nursing, there's more of a caring relationship than medicine."
—Mary Jo Patterson