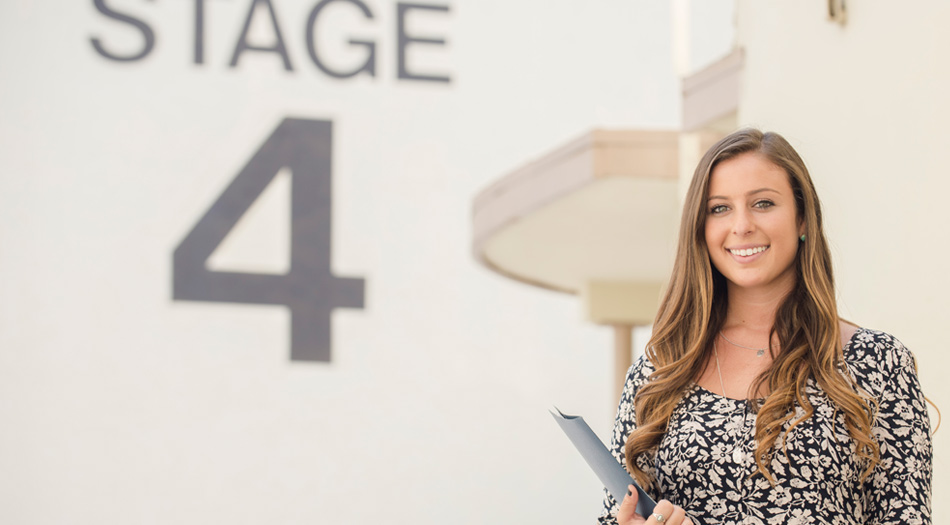 Even as a little girl, Elizabeth "Allie" Weiner was, she says, acutely aware that her favorite film, Clueless, was a Paramount picture. "At a very early age, I was interested in who produced and distributed a movie."
Weiner, a senior communications major, worked this past summer as a Creative Affairs intern at the legendary studio, a job she describes as a mix of marketing and production that allowed her to observe "every aspect of the business," from movie pitch to theatrical release. Weiner had other opportunities, but Paramount was "where I wanted to be." Not only because "they make great movies," she says, but because "they make movies I personally love."
This summer was the 20th anniversary of Amy Heckerling's teen touchstone, and the studio celebrated with a screening, which included a visit from Mona May, the costume designer who created the film's iconic plaid skirt suits. Weiner was excited to attend. "I was only one when it came out, so this was my first time seeing it in a theater."
Like Clueless heroine Cher Horowitz, Weiner is a California native, so the question is, perhaps, less how she got from Pennington Road to Paramount, and more how she ended up at TCNJ. "My mother's from New Jersey, and I wanted to go to college on the East Coast."
She stayed overnight with Alexandra Brown, a TCNJ Ambassador. "It was one of the best weekends of my life." Weiner loved the campus and the small classes. "And everyone was so nice." Weiner went on to become a college ambassador herself, a screening process almost as rigorous, she says, as the four rounds of interviews she did for Paramount.
Weiner's summer in Hollywood helped her realize she wanted to do film publicity, and through TCNJ's LionsLink she scored a fall internship with Fingerprint Communications, a small PR firm in Manhattan. Considering her roots, one might think that come graduation, Allie is Audi. "I see myself back there," Weiner says of Paramount.
But for now, at least, she plans to stay local. "Living in New York has always been on my bucket list." Especially, she says, with so many of her classmates staying in the tri-state area.
The real reason: "My friends are here."
No surprise, seeing as how her favorite film is all about besties.
—Alex Dawson