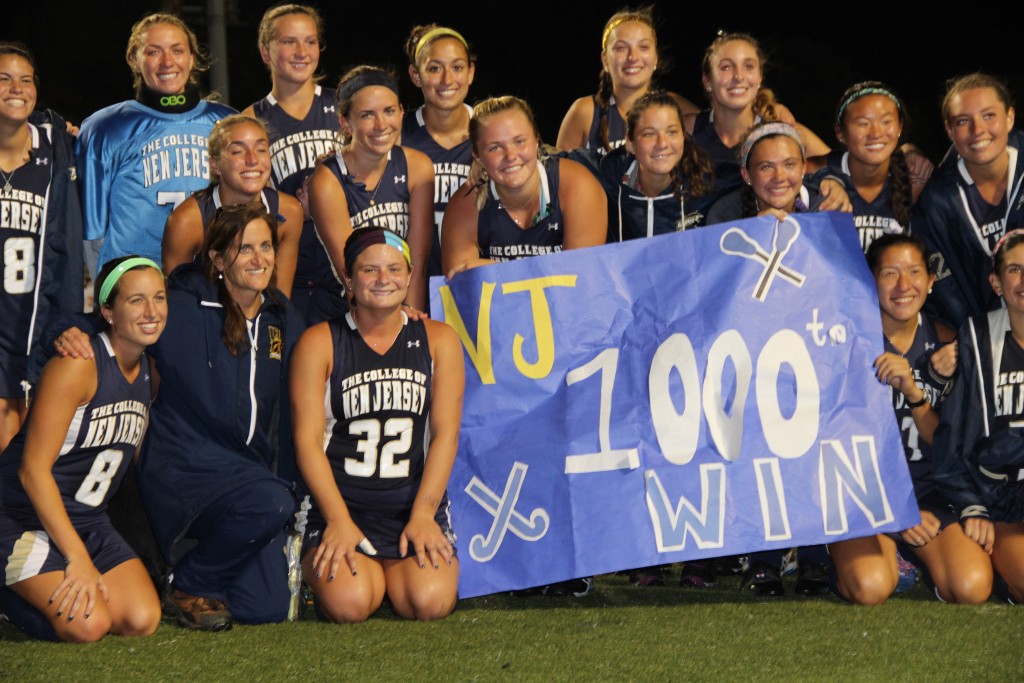 It all came together for the 1,000th time in her coaching career. Field hockey coach Sharon Pfluger '82 assessed her upcoming opponent, meticulously scripted a game plan with staff, prepared her players, and set them loose to do battle.
The result was a familiar one. The College of New Jersey field hockey team defeated Gwynedd-Mercy University 6-0. But this particular win held meaning for every field hockey and lacrosse player who wielded a stick for Pfluger over the past three decades. The Thursday night triumph in Lions Stadium marked the 1,000th career coaching victory for Pfluger, combining her 545 wins in field hockey and 455 victories in lacrosse. It is the first time in NCAA history that a coach has reached the 1,000-win milestone by leading two programs.
"This is a shared accomplishment with all of the players and coaches that have been so loyal and dedicated to our programs," says Pfluger. "It's 1,000 wins, which is incredible to think about, but it's about our memories and our moments together. It's about how we fought through challenges and how much we care about and respect each other."
Pfluger's prolific TCNJ career did not begin as a coach, but as a player herself. She was a member of the first TCNJ (then known as Trenton State College) field hockey team to win an NCAA national championship in 1981. Pfluger entered into the coaching ranks immediately after graduation, cutting her teeth as a head coach at Kean College in 1983 and Montclair State College in 1984. She returned to her alma mater in 1985.
From that point on the numbers have been staggering. As head coach of the field hockey and lacrosse program, Pfluger has led the Lions to 20 NCAA national titles—11 with lacrosse and nine with field hockey. She has a combined record of 1,000-150-10, giving her a winning percentage of .863. After capturing the 2014 national championship, TCNJ continues to dominate. Since last season, they have won 23 consecutive games and are ranked No. 1 in national Division III field hockey polls.
"She is completely focused on the teaching moments in practice so we are always improving and prepared for that next game. We never look any further ahead than that," says Robin Selbst '93, a former All-American player for Pfluger and now longtime assistant coach. "She wants to see each player thrive and experience that reward of success. It's about being a family and wanting the best for each other."
Sustained success is tremendously difficult to achieve in sports. To stay at the top for such a long period in two sports is even more remarkable. It begs the question, what's critical to chronic winning?
"The first word that comes to mind is loyalty. Loyalty and pride," Pfluger says. "I think that is key to sustaining a successful program. We are all so loyal to each other and have tremendous respect for all the hard work everyone has put in toward attaining our goals."
Pfluger is an iconic national figure in collegiate athletics. She is one of just two female coaches, along with University of Tennessee's Pat Summit, to be featured in the NCAA Hall of Champions' Legends of the Game display located in Indianapolis, Indiana. But what stands out here at home is her importance to so many TCNJ alumni athletes.
Says Pfluger, "When a player comes back and tells me her experiences here were some of the best times of her life and she's using those life skills she learned through playing, there is no greater reward for a coach."
Mark Gola