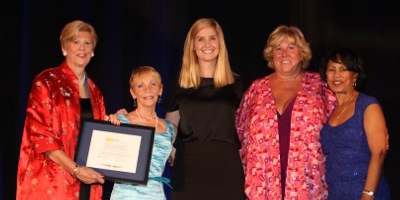 The College of New Jersey Department of Nursing was recognized this past Friday night for being chosen by the National League for Nursing as an NLN Center of Excellence.
TCNJ was honored at the NLN's 2015 Education Summit in Las Vegas, part of a special presentation during the NLN Banquet. The four-day summit draws a capacity crowd of nurse faculty, deans, administrators, and professionals from allied health organizations.
"Being selected as a Center of Excellence in Nursing Education by the National League of Nursing is quite an honor," said Carole Kenner, the Carol Kuser Loser Dean of the School of Nursing, Health, and Exercise Science at TCNJ. "Our selection was based on the category Creating Environments that Enhance Student Learning and Professional Development, which supports TCNJ's belief that students are at the heart of our mission."
The NLN Center of Excellence (COE) designation is intended for schools of nursing and health care organizations that have achieved a level of excellence in a specific area. Through public recognition and distinction, the program acknowledges the outstanding innovations, commitment, and sustainability of excellence these organizations convey.
Since 2004, the NLN has invited schools to apply for COE status. To be selected, the school must be able to demonstrate in concrete, measurable terms sustained excellence in faculty development, nursing education, research, or student learning and professional development.
Students enrolled in COE schools have an opportunity to express their thoughts on the meaning and excellence of nursing education, what fosters excellence, and what it means to be a part of a COE-designated nursing program. The winner of the Student Excellence Paper Competition is acknowledged at the COE presentation and published in the fall issue of the NLN Report.
"I am proud of the outstanding students, faculty, and staff in the School of Nursing, Health, and Exercise Science—and especially the Department of Nursing—that strive to always do their best," Kenner said. "We are committed to teaching learning excellence and the teacher-scholar model. It is wonderful to have national affirmation of that commitment."
---
—Mark Gola, Director of Media Relations