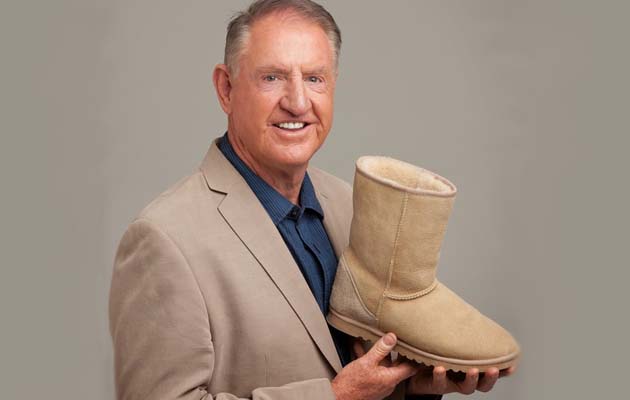 Brian Smith took 10 years to earn his degree as an accountant in his native Australia. On the day he finally graduated, he quit his accounting job. Turns out he didn't want to become an accountant after all.
Smith, who would later start the wildly successful Ugg boot company, recalled that life-changing decision during his October visit to TCNJ. He spoke to two classes and presented a public lecture in Kendall Hall, delivering homespun and hard-won nuggets of entrepreneurial wisdom often flavored with a dash of Zen.
"If you don't know what you want to do, that's totally fine," he told students in Business Dean William W. Keep's freshman seminar, Truth and Truthiness in Business. "There are a zillion opportunities out there."
A dozen students from Trenton High School West, part of the college's Community Engaged Learning component, also attended Smith's lecture. The Trenton students participate in the high school's VIP youth program, for which Trenton native Roger Barrett, a TCNJ student and Bonner Scholar, serves as a facilitator.
When he was a floundering, wannabe entrepreneur in his twenties, Smith said, he asked a friend how to figure out the right career path. Easy, his friend replied: "Figure out what you can do better than anybody else, and then just do it."
Smith found the business opportunity he'd been craving when he saw an ad in Surfer magazine—Smith was a lifelong surfer—featuring sheepskin boots. Back in Australia, everyone wore sheepskin boots, but they were still a novel fashion statement in America. Suddenly, a light bulb clicked. Smith would start a sheepskin boot company that would deliver the fuzzy footwear to every surfer in Southern California, not to mention every other citizen on the planet.
Sales remained modest in Ugg's early years, when Smith used fashion models in ads placed in surfing magazines. But when he asked local surfers, they scoffed, saying the model looked like she never surfed a day in her life. Smith redesigned the ads, replacing the models with real surfers—his intended customers. "When advertising to your target market," Smith said, "you've got to find out what turns them on."
Before the students in Keep's seminar, Smith concluded with business advice that surely warmed their hearts. "Don't listen to your parents," he said. Then, placing both hands over his heart, he added, "Just do what you feel in here."
Smith's appearance was coordinated by Lorraine Allen, regional director of the Small Business Development Center at The College of New Jersey.
---
—Christopher Hann
Biz Wiz
Brian Smith's favorite two pieces of business wisdom derive from his own rags-to-riches entrepreneurial career.
The quickest way for a tadpole to become a frog is to enjoy every day as a tadpole.
In other words: Do what you're doing as well as you can do it, and when your opportunity comes along, you'll be ready for it. Smith harkened to the humble early days of Nike, which "never knew jogging was coming along" when it began as an athletic shoe manufacturer.
Your most disappointing disappointment could become your greatest blessing.
Smith recalled when he "lost control" of Uggs and was instead assigned to be the company's chief sales representative for Southern California. Turned out that meant he would draw an $80,000 salary, which, in the 1980s, was a pretty nice living—especially considering that as CEO he had "never made a cent."
Later, Smith said, he regained 100 percent control of the business, and thus his most disappointing disappointment became his greatest blessing.