In conjunction with Sodexo Campus Services, The College of New Jersey's School of Education presented Saving the Planet – One Bite at a Time. The event was held in the Atrium at Eickhoff Dining Hall to educate the campus community on how dining choices can impact the world.
The sustainability theme for the event was spearheaded by School of Education Dean Jeff Passe; Director of Culinary and Contract Services, Karen Roth; and Sodexo Executive Chef, Lauren Franchetti. Sodexo coordinates a themed event with one of the schools each semester.
An apple-tasting contest featuring produce from a local orchard alongside store-bought apples highlighted an eclectic menu of meals comprised of fresh foods gathered from local farms. The New Jersey Department of Agriculture was on hand to promote Jersey Fresh along with campus registered dietician, Aliz Holzmann.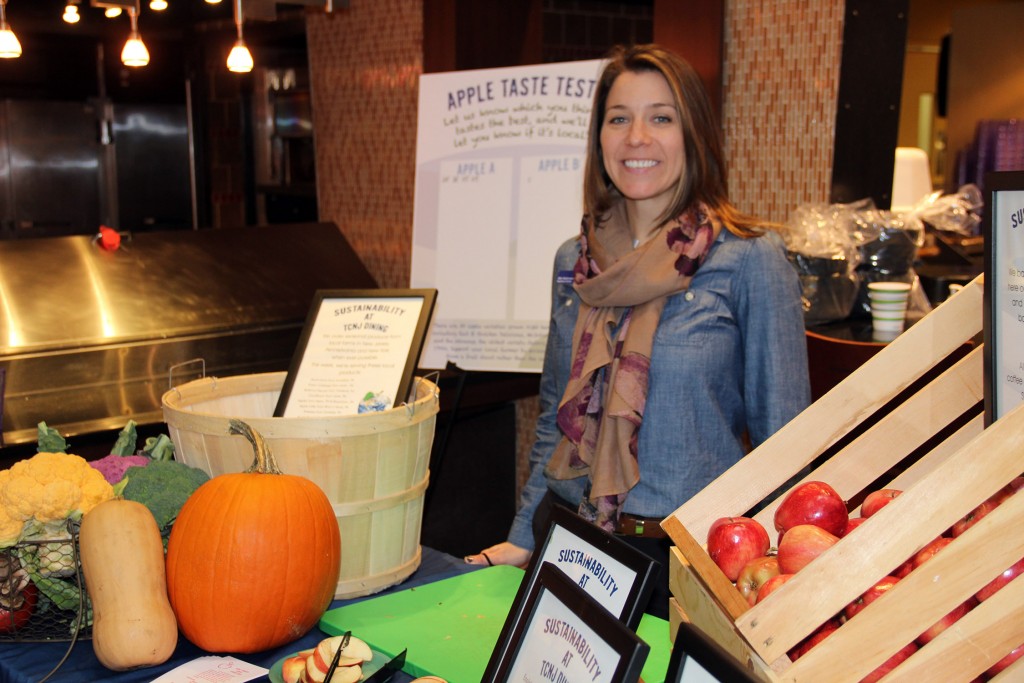 A small sampling of the lunch menu in Eickhoff for the event included local apple and gorgonzola salad, local butternut squash and lentils, whole wheat mushroom pizza, chicken liver sandwich, and apple walnut upside down cake.
The dining event was inspired by the recent launch of the Environmental Sustainability Education Initiatives program. The program includes three courses covering multiple perspectives on environmental sustainability education, a five-course minor in Environmental Sustainability Education, and the development of a series of workshops for practicing teachers.
---
—Mark Gola