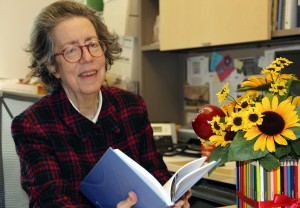 Blythe Hinitz, professor of elementary early childhood education, was recently named an Exceptional Master Leader by Exchange magazine.
The magazine spotlights leadership in the field of early care and education through their Exchange Leadership Initiative (ELI). The Master Leaders Review Team identified 49 Exceptional Master Leaders and 38 Master Leaders.
"I consistently reflect on my foundational experiences in order to move ahead," Hinitz said. "One of the things I am most proud of, that I am sure contributed to my receiving this honor, is that in the 1970s I headed the TCNJ Day Care Management Minor. This was an innovative program open to all majors on the campus that included seven required courses in the schools of education, nursing, and business. I chaired a committee of faculty members from the three schools that provided oversight. With administrative backing, this program was one of the very first of its kind in the United States."
Hinitz is one of only three professors in the United States to be selected as an Exceptional Master Leader.
A collaborative teacher and historian of education, Hinitz has collaborated with a vast number of reputable organizations and innovative programs that have had a significant impact on early childhood development in schools. She has worked with Kidsbridge Tolerance Museum, OMEP, the World Organization for Early Childhood Educations, the Expert Advisory Group to the NJ Coalition for Bullying Awareness and Prevention, the Educational Equity Center, and the International Standing Conference on the History of Education. Hinitz also played a vital role in marrying the college to the Head Start Program, a federal program that provides comprehensive early childhood education, health, nutrition, and parent involvement services to low-income children and their families.
"One of my initial responsibilities was supervising the Head Start Program, and representing the college on the local CAP Board. I am proud that the symbiotic relationship between the college and the Head Start programs was maintained for forty years."
Hinitz recently presented the keynote address at the First International Conference on Primary and Early Childhood Education at the Indonesia University of Education in Bandung, West Java, Indonesia. Her lecture was titled, Peace Education in Primary and Early Childhood Education: Theory and Practice in the Twenty-First Century.
An author and historian, Hinitz was named a Distinguished Professor by the Secretary of Higher Education of the State of New Jersey and New Jersey Association of Colleges for Teacher Education in 2012. She was also designated a Hero of Early Childhood Education by the National Association for the Education of Young Children (NAEYC) in 2011, and an Outstanding Teacher Educator by the National Association of Early Childhood Teacher Educators (NAECTE). Hinitz recently gave presentations at NAEYC and NAECTE conferences relating to the history of early childhood teacher education.
---
—Mark Gola