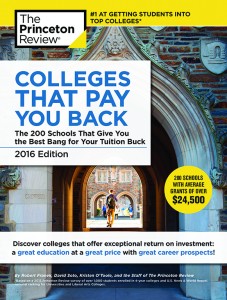 The 2016 edition of The Princeton Review's Colleges That Pay You Back: The 200 Schools That Give You the Best Bang for Your Tuition Buck, names TCNJ as one of the nation's best colleges for students seeking great academics, outstanding career preparation, and an affordable price—all with an ample salary upon graduation.
The Princeton Review chose schools based on ROI—return on investment—ratings it tallied for 650 schools last year, along with data culled from surveys of administrators and students and from PayScale.com's surveys of school alumni through April 2015.
In the book's profile of TCNJ, The Princeton Review editors praise the college for its financial aid packages (close to 50 percent of full-time undergrads benefit from financial aid, which can come in the form of merit-based scholarships, work-study programs, loans, or government or institutional grants) and quote from TCNJ students the company surveyed. "It's not uncommon for someone who you don't know to say hello and ask how your day is going—that's pretty much the norm around campus," said one.
The "Career Information" section of the profile lists an exceptional ROI (return on investment) rating score of 88 for TCNJ. It also cites PayScale.com figures reporting TCNJ's graduates with at least a bachelor's degree have a median starting salary of $49,800 and median mid-career salary of $82,100.
"We highly recommend TCNJ and all of our Colleges That Pay You Back schools. They stand out not only for their outstanding academics but also for their affordability via comparatively low sticker prices and /or generous financial aid to students with need – or both," said Robert Franek, The Princeton Review's senior vice president/publisher and lead author of the book. "Students at these colleges also have access to extraordinary career services programs from their freshman year on, plus a lifetime of alumni connections and post-grad support."
Check out TCNJ's full entry on The Princeton Review's website.
---
—Emily W. Dodd '03