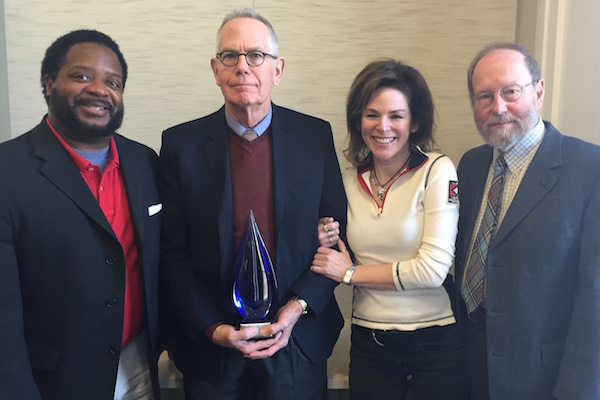 On March 9, Richard Kamber, professor of philosophy, was named the inaugural recipient of the Robert Anderson First Seminar Instructor of the Year award.
Named for Robert Anderson, former assistant provost of liberal learning who worked to shape the college's general education program since 1989, the award is dedicated to the spirit of liberal learning and courses that create a well-rounded education.
"From day one, TCNJ makes it clear that students are entering an intellectual community," said Provost Jacqueline Taylor. And from the moment the college's general education program began, Richard Kamber has been among those at the helm of its leadership and evolution.
Kamber has taught 24 FSP sections since 2004. In his course, "Morality, God, and Free Will," students discuss some of life's most difficult questions: Is there life after death? Is there a God? Do we truly have free will? Kamber's students help inmates prepare resumes for post-release employment, visit major cultural resources in New York City, and hear from guest speakers with expertise in special areas of philosophy.
"Our liberal learning program is worthwhile," said Kamber as he humbly accepted the award, presented to him by student Arianna Chatterjee '17. "Our purpose is to make our students more broadly educated."
Finalists Todd McCrary and Michele Lise Tarter also received recognition for their contributions to the program have 12 and 10 FSP sections under their respective belts since 2004.
McCrary, a program specialist in the EOF Program, offers an FSP section in "The Evolution of African American Gospel Music," wherein students use gospel music to understand the African American experience from slavery to the present day—attending church services and gospel concerts, tasting soul food, and learning from local pastors, recording artists, and choir directors.
Tarter, professor of English, teaches "Incarceration Nation: Literature of the Prison," where students prepare essays on historical and contemporary correctional practices submit them to national newspapers. They hear from ex-offenders, and participate in writing workshops with at-risk youth in Trenton.
ABOUT THE FIRST SEMINAR PROGRAM
The First Seminar Program (FSP) is a small, seminar-style class that all entering first-year students take during their first semester at TCNJ. Students choose from themes, selected by professors, that are appealing, accessible, and engaging, allowing for writing-intense exploration of new topics and perspectives that they may not otherwise encounter in their major. FSP students are housed with their classmates, creating a living-learning community that extends beyond the classroom.
---
—Emily W. Dodd '03