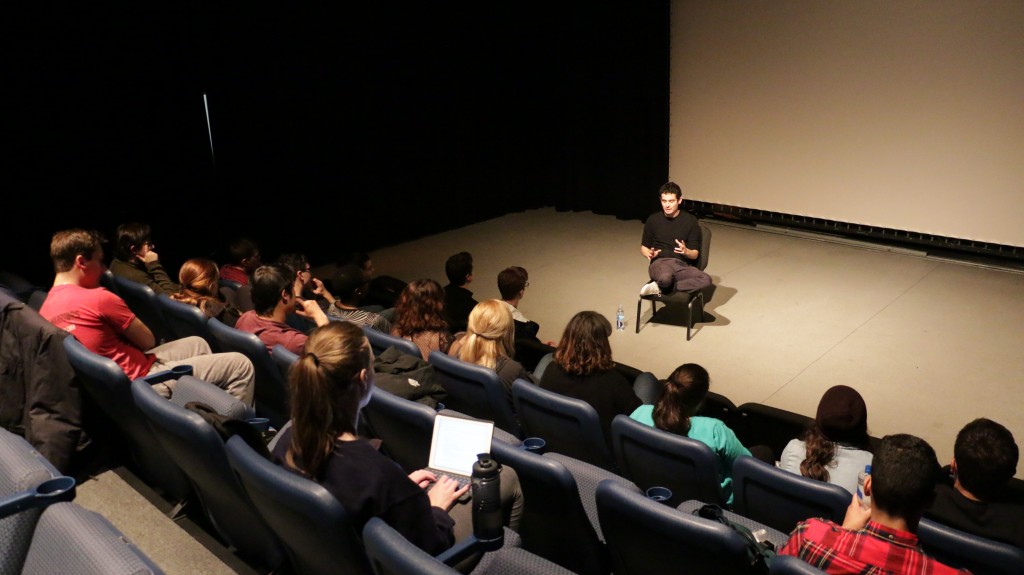 Damien Chazelle, writer/director of the Academy Award-winning film "Whiplash," visited TCNJ on March 28 to conduct a master class for communication studies students interested in pursuing careers in the film industry.
Not unfamiliar with TCNJ—his mom, Celia, teaches in the history department—Chazelle spent time researching the college's academic dismissal policy, which he later used in the Academy Award-winning film. But this was his first time talking shop with TCNJ students about his challenges and triumphs in show business.
"Nothing I wanted to make was getting made, so I decided to make something that was makeable," he said of the struggles he faced while pitching his film in Hollywood. "Whiplash" was a risk, in that it featured a jazz drummer instead of a flashy, attention-drawing rock star.
But perhaps the bigger challenge was that producers couldn't see past his credentials—or rather, lack thereof—as a young director.
"The difficulty with directing is communicating a vision, especially when you are the only person who can see that vision," he says. He brought his vision to life by independently making a version of the film to pitch to Hollywood producers, with little rehearsal time or money. But it did the trick, and eventually, he got the backing he needed to bring it to the silver screen.
Chazelle's key takeaway for students who want to enter the film industry? Patience.
"When you reach the 90th 'no,' that voice in your head returns, telling you this isn't right…the one that tells you, 'Maybe I should have listened to my parents and went to law school,'" he jokes. "Be persistent. Withstand the 'no's.'"
And he knows from experience. His previously rejected film "La La Land" is expected to hit theaters in December.
"It was really just awesome to talk to someone who is currently working Hollywood to his advantage," says Jared Sokoloff, senior comm studies major. "He's still fairly close to us in age and as someone who is about to enter the industry, it was inspiring for me just to sit down and talk to him about his journey."
---
—Jennie Sekanics '16