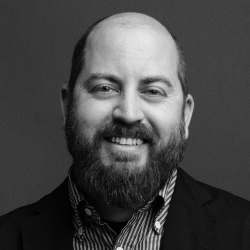 Jess Row, associate professor of English, has been awarded a fellowship by the John Simon Guggenheim Memorial Foundation.
Often characterized as a "midcareer" award, Guggenheim Fellowships are intended for individuals who have already demonstrated exceptional capacity for productive scholarship or exceptional creative ability in the arts. The fellowship allows for uninterrupted time for recipients to pursue their creative work or research.
Row received his fellowship grant for fiction writing.
The fellowship application process is rigorous, and selective. This year, the foundation awarded 175 fellowships in the United States and Canada from a pool of 3,000 applicants.
For Row, the honor comes at an opportune time.
"I'm working on two new book projects concurrently: a book of essays about race and American fiction, and a novel about climate change, Palestine, and many other things," he says. "Writing two books at once and maintaining a full teaching schedule is very difficult, and I'm especially looking forward to taking extra time to travel for research, which is crucial for my novel."
Read more about Jess Row and his most recent novel, Your Face In Mine, at tcnjmagazine.com.
His first book, The Train to Lo Wu, a collection of short stories set in Hong Kong, was published in 2005; his second collection of stories, Nobody Ever Gets Lost, appeared in 2011.
His stories have appeared in The New Yorker, The Atlantic, Ploughshares, Granta, American Short Fiction, and Harvard Review, among others. His stories have been anthologized three times in The Best American Short Stories (most recently in The Best American Short Stories 2011) and have won two Pushcart Prizes and a PEN/O. Henry Award. In 2007, Row was named a "Best Young American Novelist" by Granta.
In addition to serving on the English faculty at TCNJ, he is a member of the international faculty of the MFA program at the City University of Hong Kong. He lives in New York City with his wife and their two children. A student of Zen for more than 20 years, he is an ordained dharma teacher in the Kwan Um School of Zen.
---
—Emily W. Dodd '03