In last year's Mayo Business Plan Competition, the Solar Divide team had a great idea, but they didn't have the business acumen to back it up—and it cost them. They didn't advance beyond the first round.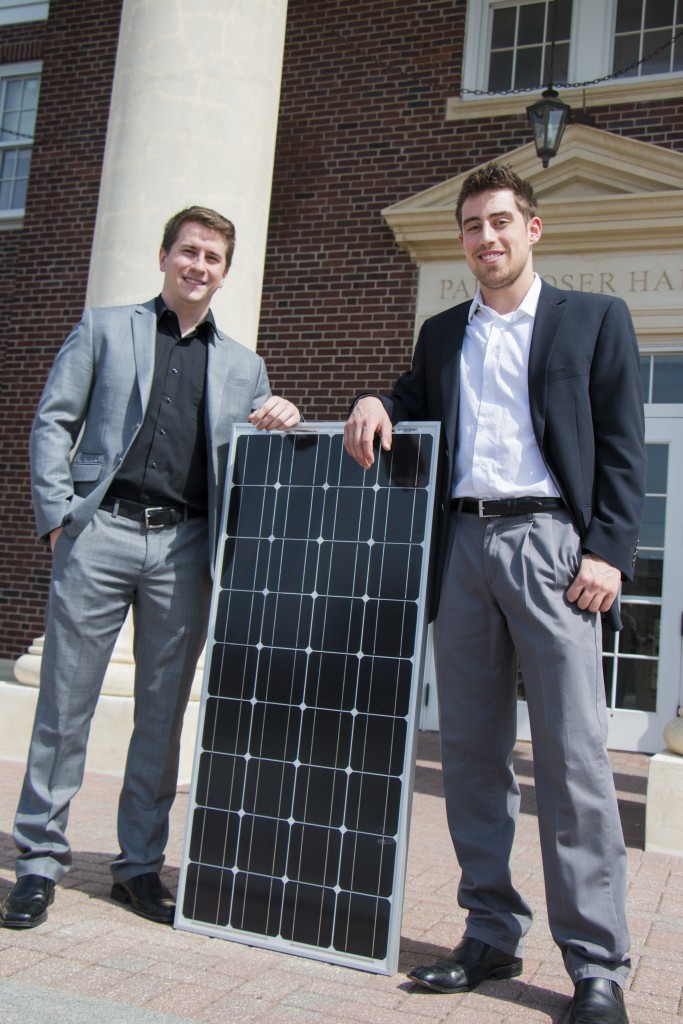 This year, like a phoenix rising, team members Nic Freschi and his business partner Cody Combs breathed new life into their existing concept and created a solid business plan that took home the biggest first-place prize pot in the competition's five-year history: $30,000.
Freschi and Combs, both senior physics majors, along with 2015 finance and physics grad Christian Balevski, make up Solar Divide, LLC. Though they're keeping a tight lid on the specs behind their technology while they work on patents, they're calling it a new way to "do" solar. By devising a way to separate [read: divide] different wavelengths of sunlight, each can be put to work at its optimal efficiency thereby turning otherwise wasted heat energy into electricity. And the best part? They're confident that their innovation can be easily retrofitted to existing solar farms to double their output.
Their ultimate goal—to approach big energy companies with their intellectual property and sell their ideas—is what won them the competition this year. The judges were impressed by their shift from a manufacturing model the previous year to a licensing model this year, mentioning that it showed solid knowledge of the market and how to get their foot in the door.
"We want to be a part of this transition away from fossil fuels and into clean energy," says Balevski. "And after we succeed with this, we'll keep moving forward," he says.
For Freschi, who is majoring in philosophy along with physics, the win gives him the confidence to purse a childhood dream. "I've always wanted to be an inventor, but I never thought I was that type of person," he says. "I want to create impact and do something that will be important on a global scale, and this is the best of both worlds."
Combined with the winnings from the Mayo Business Plan Competition, Solar Divide has deals in place to raise nearly half of their $250,000 goal. With the funding, they're working to secure an attorney and start the final patent process, and build a scaled-up prototype of their rethought solar panel so that potential investors—and buyers—can see it at work alongside a traditional solar field.
Combs stressed the impact the competition had on him. "The Mayo Business Plan Competition teaches you how to do it," he says, referring to crafting an achievable plan. "If I want to start another start-up, I know what it takes. You think it's impossible to do, but it's literally just doing it. Just work at it."
About the Mayo Business Plan Competition
The Mayo Business Plan Competition is designed to increase student appreciation for the challenge of developing a viable business. Through an iterative process the MBPC recognizes those students best able to articulate a plan that addresses these challenges. In recognition of both the time involved and difficulty of the task, the competition provides a substantial reward for the successful teams.
TCNJ students from all majors are welcome to participate. Students with ideas that translate into viable business products or services can come from virtually any school and major. Each team must be comprised of no less than two and no more than four current TCNJ students.
---
—Emily W. Dodd '03