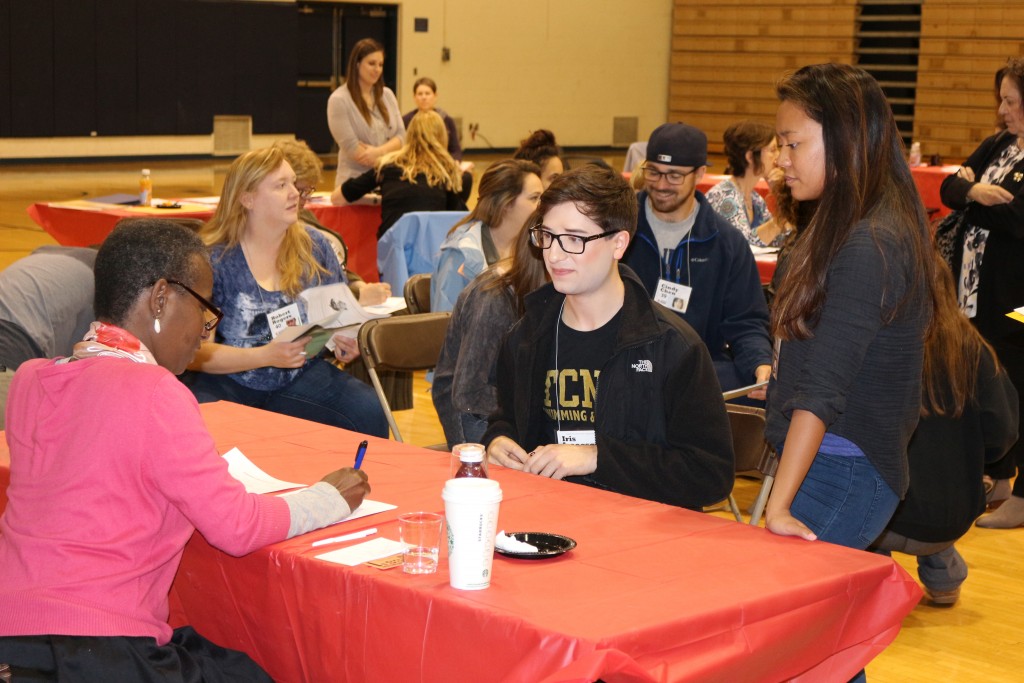 On Wednesday, May 4, a group of TCNJ nursing students experienced first-hand the struggles of living in poverty through a Community Action Poverty Simulation (CAPS) funded as part of a grant from the Robert Wood Johnson Foundation.
Students and other volunteers role-played a week in the life of individuals living in poverty, experiencing their day-to-day hardships and high-stress situations where both their own lives and their families' security were at stake.
The simulation transformed the Packer Hall gym into a mock urban environment, with social service agencies and other institutions situated around the room. During the simulation, participants moved frantically from one to another seeking help. At one station, children sat in juvenile detention, waiting indefinitely for their parents to take them home. At another, participants unable to purchase food for the week waited in line to request food stamps.
These cycles left many "frustrated and heartbroken," according to a student who portrayed a mother of two. Unemployment, a daughter's teenage pregnancy, and a stolen car created unexpected obstacles. While the student felt "disheartened" trying to help her children, she also appreciated the real-life struggles of families who must cope with similar circumstances.
As students concluded the simulation, they unanimously agreed it was "eye-opening," forcing them to make decisions they would have never considered before, such as robbing others for spare change. Yet the simulation enabled students — many of whom will work with low-income families in hospitals and healthcare facilities throughout the region upon graduation — to look at poverty from new and challenging perspectives.
CAPS was developed to help raise awareness of different aspects of poverty and generate discussion about its impacts on local communities. The Missouri Association for Community Action has been revising and running the program since 2002. In addition, members of the School of Nursing, Health, and Exercise Science helped to coordinate the program, including Ann Fallon, Norma Brown, and Matthew Rosenthal.
---
Tom Kozlowski '16