When Ellie Schuckman '18 rose last Tuesday morning, the only thing on her mind was her 11:00 a.m. final. But then the Lions Television programming director found a startling request in her in box: Reuters, the international news agency, wanted footage the student-run station had shot of former President Bill Clinton's May 13 visit to campus.
"They said that Clinton had made interesting comments on Russian-European relations that they were reporting on," recalls Schuckman. It would prove to be the remark heard halfway 'round the world and LTV, it seemed, had exclusive footage.
"Poland and Hungary, two countries that would not be free but for the United States and the long Cold War, have now decided this democracy is too much trouble," Clinton said during the hour-long Packer Hall event. "They want Putin-like leadership. Just give me an authoritarian dictatorship and keep the foreigners out. Sound familiar?"
Lions Television posted its recording of the speech to YouTube on Sunday evening, two days after the event. Almost overnight, clips of the remark—some bearing foreign subtitles and voiceovers, all bearing the LTV watermark—started circulating abroad. News stories chronicling the resulting outrage followed. Before long, Jarosław Kaczyński, leader of Poland's ruling party, weighed in.
"If someone feels that there is no democracy in Poland, they should be medically examined," he was quoted as saying.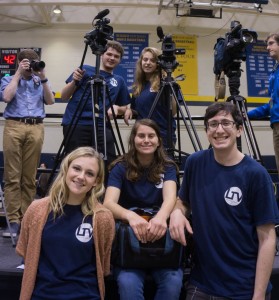 Hungary's foreign minister Péter Szijjártó also waded into the controversy, telling his country's MTI press agency, "Mr. Clinton certainly knows that Hungarian voters decided on their future in a democratic election. [He] may not like the decision of the people of Hungary, but this cannot be sufficient reason for the former President to insult them like this."
Schuckman isn't sure how Clinton's comment came to light on the other side of the globe, but she's proud of the fact that LTV is the only outlet with the clip.
"We're a relatively young club and are still trying to establish ourselves," she said. "To have news agencies across the world wanting to use something that we've produced is really special."
International News Wire:
Poland' tvn24 (their CNN) broadcast the LTV footage overdubbed in Polish and credited to TCNJ/Lions Television. Watch here.
If you don't read Czech, the only five words you'll understand in this news story will be "The College of New Jersey."
---
—David Muha